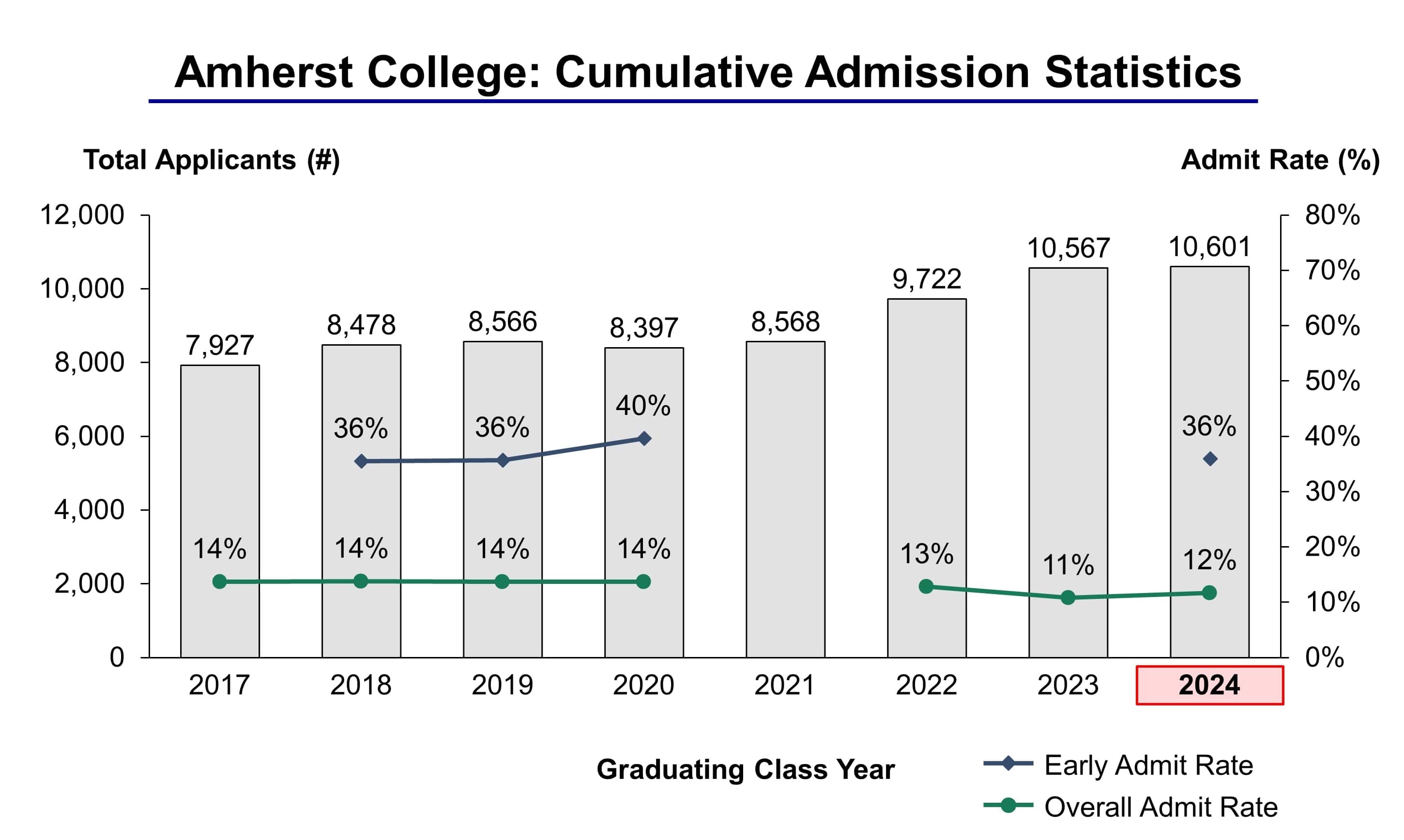 Amherst College is a highly competitive school and its admissions statistics make Amherst College one of the 50 most competitive schools for undergraduate admissions globally. Similar to the trends across all top schools, Amherst College acceptance rates have continued to decline over the past 8 years and will almost certainly continue to do so into the future.
The Class of 2024 was one of the most challenging years to be admitted to Amherst College ever. For the Class of 2024, 10,601 students applied to Amherst College of which 1,244 students were accepted, yielding an overall acceptance rate of 11.7%. Overall applications increased by 0.3% over last year (2023 to 2024) from 10,567 to 10,601.
For the Class of 2024, 186 students were admitted through the early admissions process. Total early applications totaled 518, yielding an early acceptance rate of 35.9%.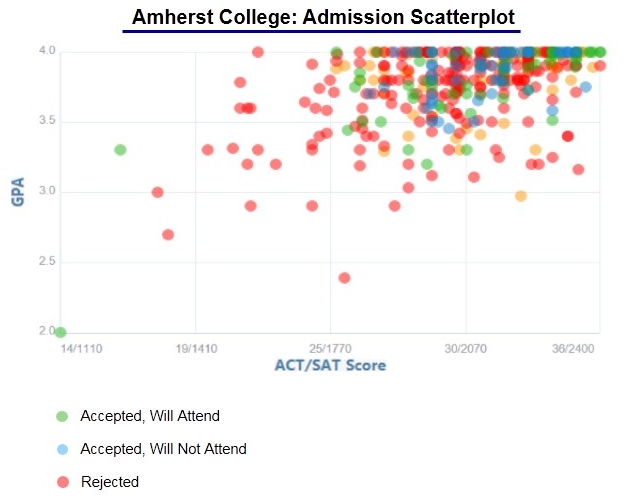 Founded in 1821, Amherst College is located at the heart of the Pioneer Valley in Amherst, Massachusetts and has become one of the top small private liberal arts schools in the United States. The beautiful 1,000 acre campus includes a 500 acre wildlife sanctuary, while the college libraries hold more than 1,517,000 books and more than 595,296 other media materials, including 330,394 e-books. Amherst College has an endowment of $2.15 billion which equates to $1.2 million per student.
Amherst College has a student/faculty ratio of 8:1, with students frequently working one-on-one with faculty, many of whom are among the nation's leading scholars and who have received awards from the National Institutes of Health, the National Science Foundation and the Mellon Foundation. Many Amherst College alumni are evidence of the school's scholastic teaching ability in such areas, including Dr.Warren Fales Draper, Deputy Surgeon General of the United States Public Health Service; Harold E. Varmus, Director of the National Institutes of Health; Dr. Barry R. Bloom, recipient of the Robert Koch Prize, expert in infectious diseases and dean of the Harvard School of Public Health.
Amherst College has thirty-eight majors in the arts, humanities, natural sciences and social sciences, and enrolls 1,785 students annually. The college has more than 200 full-time instructional faculty and ninety percent of Amherst College classes have fewer than thirty students. In fact, the average class size is sixteen students.
Amherst College boasts an "athletics program that is the oldest in the country" and has won a seventy NCAA Division III individual titles and ten team championships). Amherst College also has 100 student organizations and a number of college traditions, one of them being an interesting way to get the "coolest dorm room"; the annual Lip Sync show allows students to perform skits and dances set to popular songs in order to get the highest Room Draw Number.
AMHERST COLLEGE: CURRENT STUDENT POPULATION
Total Enrollment 1,791
Undergrad Enrollment 1,791
Freshmen 461
% Male/Female 51% / 49%
% From Out of State 89%
% Freshman from Public High School 60%
% Undergrads Live on Campus 97%
% African American 12%
% Asian 11%
% Caucasian 40%
% Hispanic 11%
% Native American 0%
% Mixed (2+ Ethnicities) 6%
% International 10%
# of Countries Represented 28
AMHERST COLLEGE: FRESHMAN STUDENT PROFILE
Range SAT Critical Reading 670-770
Range SAT Math 670-760
Range SAT Writing 670-760
Range ACT Composite 30-34
Minimum Paper TOEFL 600
Minimum Web-based TOEFL 100
% Graduated Top 10% of Class 83%
% Graduated Top 25% of Class 95%
% Graduated Top 50% of Class 100%
AMHERST COLLEGE: ACADEMICS
Academic Rating 97/100
% Students Returning for Sophomore Year 97%
% Students Graduating within 4 Years 87%
% Students Graduating within 6 Years 95%
Calendar System Semester
Student/Faculty Ratio 8:1
Professor's 'Interesting' Rating 89%
Professor's 'Accessible' Rating 94%
Most classes have 10-19 students.
Most lab/discussion groups have 10-19 students.
AMHERST COLLEGE: MOST POPULAR MAJORS
Economics
English Literature and Language
Political Science and Government
Psychology