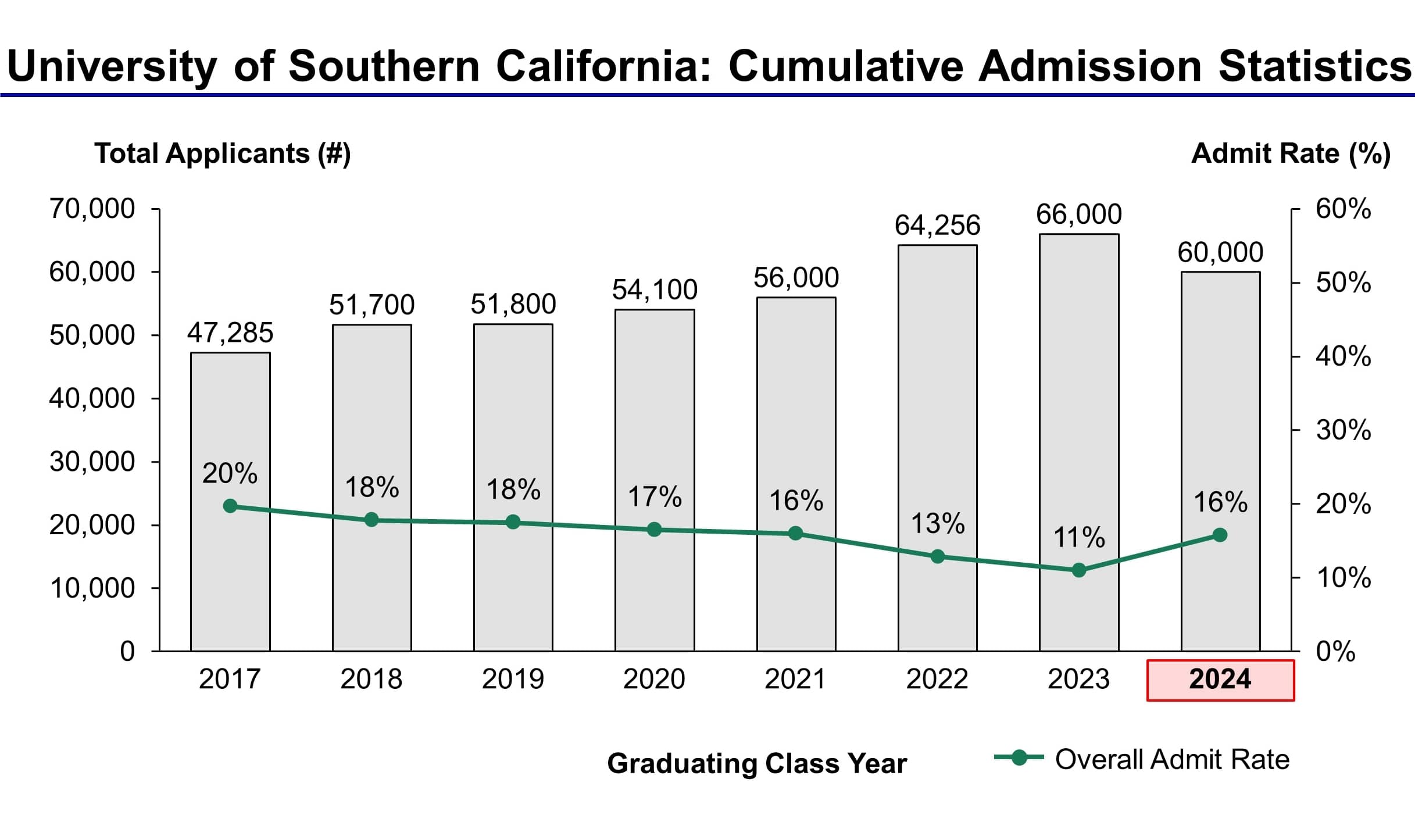 University of Southern California is a highly competitive school and its admissions statistics make University of Southern California one of the 50 most competitive schools for undergraduate admissions globally. Similar to the trends across all top schools, University of Southern California acceptance rates have continued to decline over the past 8 years and will almost certainly continue to do so into the future.
The Class of 2024 was one of the most challenging years to be admitted to University of Southern California ever. For the Class of 2024, 60,000 students applied to University of Southern California of which 9,500 students were accepted, yielding an overall acceptance rate of 15.8%. Overall applications decreased by 9.1% over last year (2023 to 2024) from 66,000 to 60,000.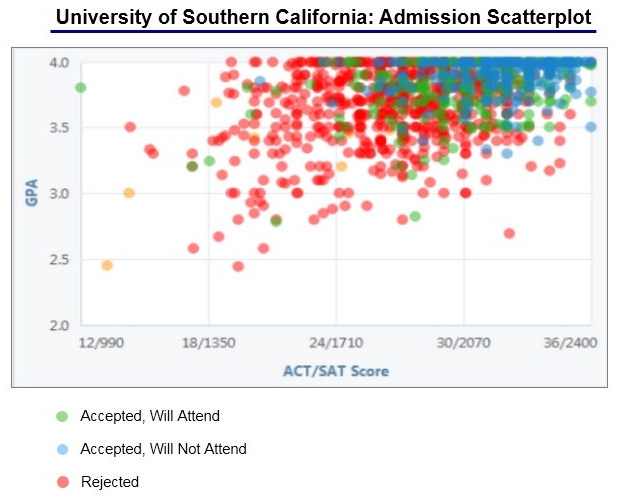 The University of Southern California (USC) is a private research university founded in 1880. Located on a beautiful 229-acre campus, USC is near the heart of the recently gentrified downtown Los Angeles, and a short distance from the Pacific Ocean.
USC was ranked twenty-third in the National University Rankings in 2014 by U.S. News, but USC's Annenberg School for Communication and Journalism is ranked 1st in the nation by U.S.A Today's "Top Journalism Schools" of 2014. The university has become known for its Business Administration and Management, Speech Communication and Rhetoric, and Accounting programs, which have produced many Californian regional business leaders and professionals. In fact, of the more than 365,000 current USC alumni that can be found in positions of leadership globally, nearly an amazing 50% of them live in California.
Some of USC's alumni include the current owner of Los Angeles Dodgers, Frank McCourt Jr.; owner of the Los Angeles Lakers, Jerry Buss; and Chairman/CEO of Trader Joe's, Dan Bane.
USC has 43,000 undergraduate, graduate and professional students attending the university's 230+ programs. A little more than half of that figure is made up of graduate and professional students who are studying in fields such as business, law, engineering, architecture, pharmacy, public policy, and social work. USC also offers doctoral degrees in humanities, social sciences, medicine and dentistry.
The USC Trojans are an NCAA DIVISION I-A school in football, basketball, baseball, cross country and track. The university is known for their cross-town rivalry with UCLA, and the annual football game between the two schools is one of the most watched football games around the country. When it comes to clubs and organizations, USC has musical groups, performing arts organizations and an ROTC program, as well as journalism and publication organizations. In line with the university's number one rank in journalism, the school publishes The Southern California Review. Headed by Los Angeles Times book critic David Ulin, along with The New Yorker staff writer Dana Goodyear and run by MPW students, it has been publishing both fiction and poetry since 1982 and now also publishes creative nonfiction and short dramatic forms.