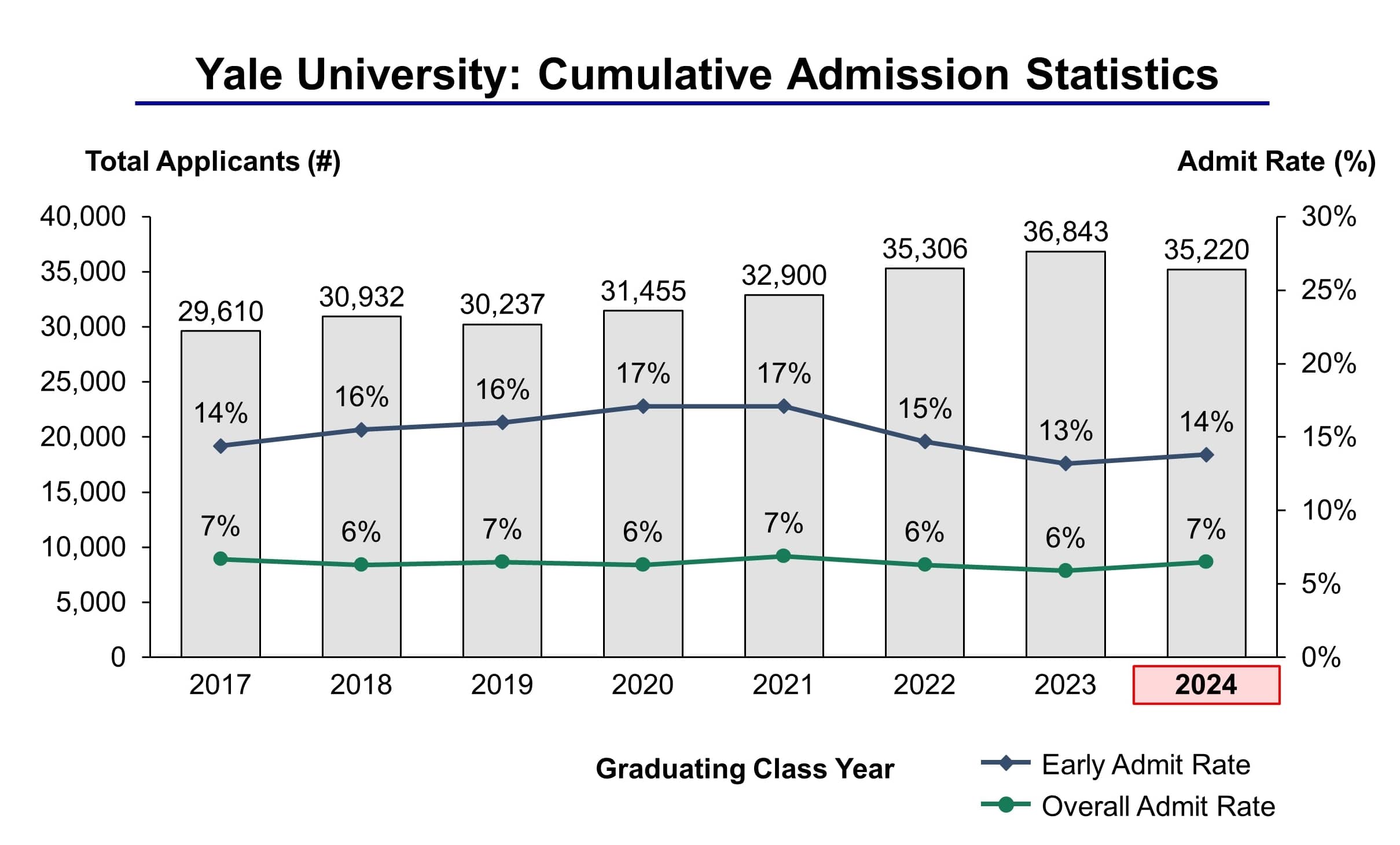 Yale University is an Ivy League School and its admissions statistics make it one of the most competitive Ivy League Schools. Similar to the trends across all top schools, Yale University acceptance rates have continued to decline over the past 8 years and will almost certainly continue to do so into the future.
The Class of 2024 was one of the most challenging years to be admitted to Yale University ever. For the Class of 2024, 35,220 students applied to Yale University of which 2,304 students were accepted, yielding an overall acceptance rate of 6.5%. Overall applications decreased by 4.4% over last year (2023 to 2024) from 36,843 to 35,220.
For the Class of 2024, 796 students were admitted through the early admissions process. Total early applications totaled 5,777, yielding an early acceptance rate of 13.8%. Early applications decreased by 4% over last year (2023 to 2024) from 6,020 to 5,777.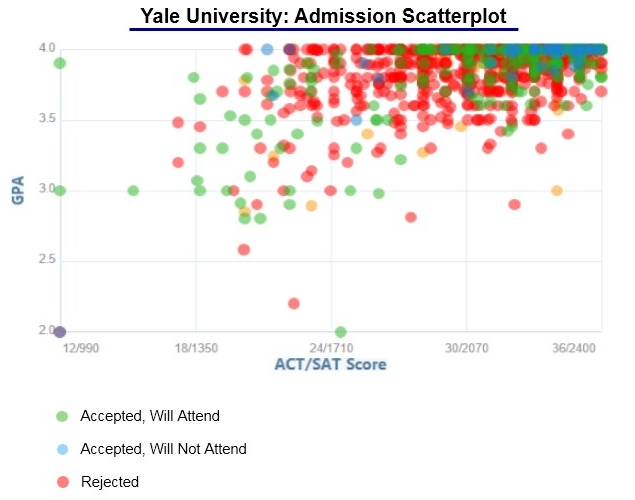 Founded in 1701, Yale University ranks third among U.S. universities listed in the 2015 edition of Best Colleges and National Universities. Some of the university's most popular majors include Economics, Political Science and Government. As such, Yale's alumni make up some of the most influential public figures, policy makers and foreign relations experts in the United States. More U.S. presidents have attended Yale University than any other university in the U.S., including Gerald Ford, George H.W. Bush, Bill Clinton, and George W. Bush.
Located in New Haven, Connecticut, Yale University is comprised of Yale College (for undergraduates), the Graduate School of Arts and Sciences, and thirteen other professional schools. Together, the student population of all Yale schools is approximately 5,379 undergraduate students, 6,501 graduate and professional students, and 2,135 international students. There is an approximate 50/50 male-to-female ratio among students.
The university is known for its small class sizes and offers hundreds of seminars capped at just twelve students. There are approximately six students for every faculty member, which contributes to more than 75% of all Yale classes having less than twenty students per class. Yale students are assigned to live in one of twelve residential colleges, each run by an appointed master and dean. The most famous residential colleges are Branford, Silliman, Saybrook and Davenport Colleges. The residential college system is a central part of every undergraduate student's social experience at Yale, as each residential college has its own dining hall, gymnasium, entertainment complex, and student café. Additionally, each of the campus Cultural houses, such as the Asian American Cultural Center and the Latino Cultural Center, provide a way for students to express cultural identity on campus.
Yale features thirty sports programs for both men and women. Popular sports include basketball, volleyball, golf, ice hockey and soccer. There are also many less-conventional sport offerings as well, including inner-tubing, water polo and dodge ball, as well as a coed sailing program.
YALE UNIVERSITY: CURRENT STUDENT POPULATION
Total Enrollment 11,875
Undergrad Enrollment 5,296
Freshmen 1,359
% Male/Female 50% / 50%
% From Out of State 94%
% Freshman from Public High School 55%
% Undergrads Live on Campus 88%
% African American 6%
% Asian 15%
% Caucasian 47%
% Hispanic 10%
% Native American 1%
% Mixed (2+ Ethnicities) 6%
% International 10%
# of Countries Represented 108
YALE UNIVERSITY: FRESHMAN STUDENT PROFILE
Range SAT Critical Reading 700-800
Range SAT Math 710-790
Range SAT Writing 710-800
Range ACT Composite 32-35
Minimum Paper TOEFL 600
Minimum Web-Based TOEFL 100
% Graduated Top 10% of Class 97%
% Graduated Top 25% of Class 100%
% Graduated Top 50% of Class 100%
YALE UNIVERSITY: ACADEMICS
Academic Rating 95
% Students Returning for Sophomore Year 99%
% Students Graduating within 4 Years 89%
% Students Graduating within 6 Years 96%
Calendar Semester
Student/Faculty Ratio 6:1
Professor's 'Interesting' Rating 89%
Professor's 'Accessible' Rating 85%
Most classes have 10-19 students.
YALE UNIVERSITY: MOST POPULAR MAJORS
Economics
History
Political Science and Government