Emory University is a highly competitive school and its admissions statistics make Emory University one of the 50 most competitive schools for undergraduate admissions globally. Similar to the trends across all top schools, Emory University acceptance rates have continued to decline over the past 8 years and will almost certainly continue to do so into the future.
The Class of 2024 was one of the most challenging years to be admitted to Emory University ever. For the Class of 2024, 28,209 students applied to Emory University of which 4,827 students were accepted, yielding an overall acceptance rate of 17.1%. Overall applications decreased by 6% over last year (2023 to 2024) from 30,017 to 28,209.
For the Class of 2024, 730 students were admitted through the early admissions process. Total early applications totaled 1,812, yielding an early acceptance rate of 40.3%. Early applications decreased by 5.1% over last year (2023 to 2024) from 1,910 to 1,812.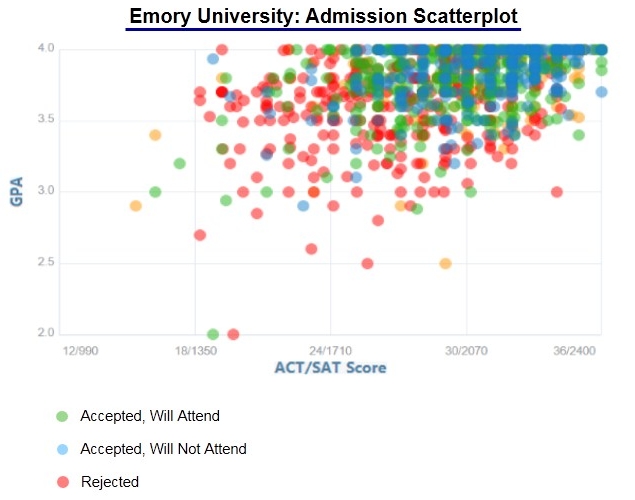 Emory College was founded in 1836 in Oxford, Georgia. Named after a bishop who dreamed of an American educational system that would that mold character as well as intellect, Emery College struggled to survive for many years, but by 1914 was looking to expand. Since that time, Emory University has become highly recognized internationally for its outstanding liberal arts colleges and graduate and professional schools, and is known to be one of Southeast America's leading places of study and application in the area of health care. Former U.S. President Jimmy Carter, physician and CNN chief health correspondent Sanjay Gupta and activist and Nobel Peace Prize winner Desmond Tutu have all taught at Emory.
Some of Emory University's notable alumni in the areas of science and health care include British physician, anthropologist, biographer, author and international civil servant, Peter Bourne and American physician, professional soccer player, United States Navy officer, and NASA astronaut, Sonny Carter. Others outside the field of science and medicine include President and Chief Operating Officer of Aflac U.S., Paul Amos II; Chairman of the Board, President and Chief Executive Officer of MetLife, C. Robert Henrikson, and founder of Callaway Golf, Ely Callaway.
Emory University has approximately 7,836 undergraduates who attend classes on its 630-acre campus. Four of Emory University's nine schools and colleges serve both undergraduates and graduates.
When it comes to tradition, Emory University does not fall short. There are even events that commemorate its beginning. For instance, the Founder's Week custom is an academic festival held between the annual academic celebrations of Opening Convocation and Commencement. It commemorates the first meeting of the Board of Trustees on Feb. 6, 1837. Many other traditions exist as well, such as "Dooley's Week," a tradition that takes place every year, and is named for Dooley, a skeleton and "Lord of Misrule" who remains steeped in Emory legend.
EMORY UNIVERSITY: CURRENT STUDENT POPULATION
Total Enrollment 13,893
Undergrad Enrollment 7,441
Freshmen 1,342
% Male/Female 45% / 55%
% From Out of State 73%
% Freshman from Public High School 61%
% Undergrads Live on Campus 68%
% African American 10%
% Asian 23%
% Caucasian 41%
% Hispanic 5%
% Native American <1%
% Mixed (2+ Ethnicities) 1%
% International 12%
# of Countries Represented 101
EMORY UNIVERSITY: FRESHMAN STUDENT PROFILE
Range SAT Critical Reading 620-710
Range SAT Math 660-760
Range SAT Writing 640-730
Range ACT Composite 29-32
Minimum Paper TOEFL 600
Minimum Web-based TOEFL Not Reported
% Graduated Top 10% of Class 80%
% Graduated Top 25% of Class 96%
% Graduated Top 50% of Class 100%
EMORY UNIVERSITY: ACADEMICS
Academic Rating 92
% Students Returning for Sophomore Year 96%
% Students Graduating within 4 Years 83%
% Students Graduating within 6 Years 90%
Calendar System Semester
Student/Faculty Ratio 7:1
Professor's 'Interesting' Rating 87%
Professor's 'Accessible' Rating 83%
Most classes have 10-19 students.
Most lab/discussion groups have 10-19 students
EMORY UNIVERSITY: MOST POPULAR MAJORS
Business Administration
Psychology
Economics