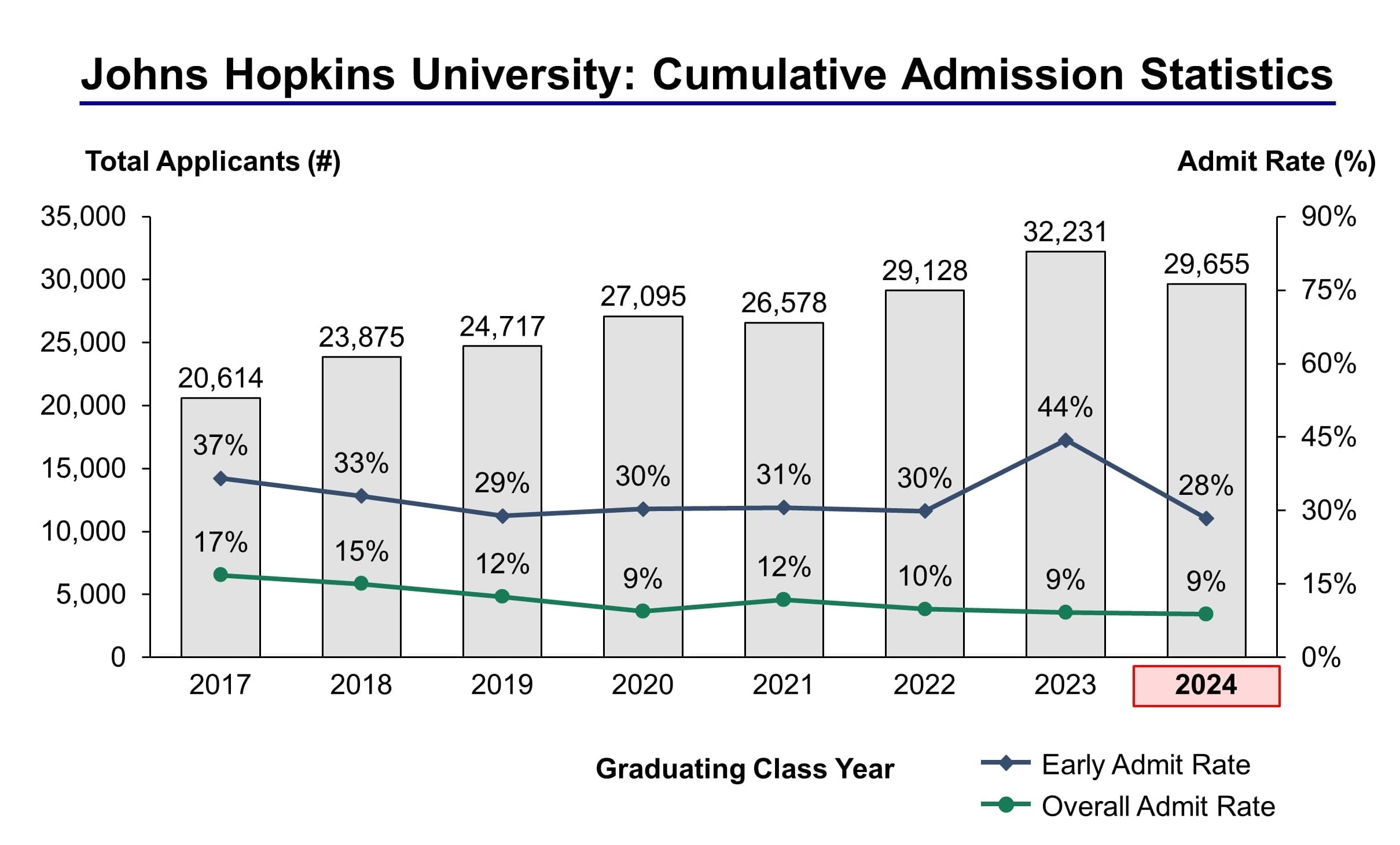 Johns Hopkins University is a highly competitive school and its admissions statistics make Johns Hopkins University one of the 50 most competitive schools for undergraduate admissions globally. Similar to the trends across all top schools, Johns Hopkins University acceptance rates have continued to decline over the past 8 years and will almost certainly continue to do so into the future.
The Class of 2024 was the single most challenging year to be admitted to Johns Hopkins University ever. For the Class of 2024, 29,655 students applied to Johns Hopkins University of which 2,604 students were accepted, yielding an overall acceptance rate of 8.8%. Overall applications decreased by 8% over last year (2023 to 2024) from 32,231 to 29,655.
For the Class of 2024, 682 students were admitted through the early admissions process. Total early applications totaled 2,399, yielding an early acceptance rate of 28.4%. Early applications increased by 16% over last year (2023 to 2024) from 2,068 to 2,399.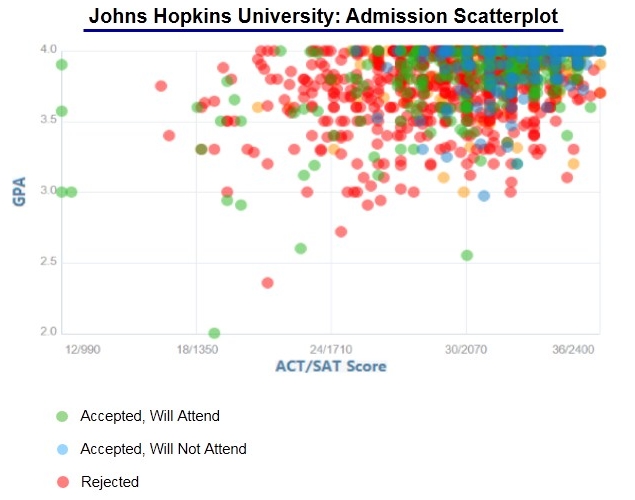 In 1876, Johns Hopkins University became the first university in the United States to be modeled after European research institutions. Located in Baltimore, MD, the private research university aims to encourage research and the advancement of individual scholars, who by their excellence would advance the sciences they pursue, and the society in which they dwell. After more than 130 years in academia, it can certainly be said it has accomplished its original purpose, and much more. Johns Hopkins University currently claims the first place title for university research funding for the last thirty-four years running.
Johns Hopkins University's official current mission is "to educate its students and cultivate their capacity for life-long learning, to foster independent and original research, and to bring the benefits of discovery to the world." From the arts and music to humanities and natural sciences, engineering, international studies, business, medicine and more, Johns Hopkins University has become one of the most recognized education and research universities in the world. Two of the university's most popular current majors are International Studies and Writing Seminars. Others include Bioengineering and Biomedical Engineering, Neuroscience, Public Health, and Cell/Cellular and Molecular Biology.
When it comes to Johns Hopkins' International Studies and Writing Seminar majors, the school has a long list of notable alumni that includes the likes of Caryle Murphy, MA, SAIS 1987 Pulitzer Prize-winning journalist and long-time international reporter for The Washington Post, Jody Williams, MA, SAIS 1984 and founding coordinator of the International Campaign to Ban Landmines (ICBL) and winner of the 1997 Nobel Peace Prize; and Kathleen Schalch, MA, SAIS '88 and NPR business reporter. All are graduates of SAIS, Johns Hopkins University's Nitze School of Advanced International Studies.
Johns Hopkins University has a student population of approximately 20,871. Approximately 6,023 of those are undergraduates. The student-faculty ratio is about 10:1 and more than 3/4 of all classes have fewer than twenty students, providing more than ample attention to each and every attendee.
When it comes to activities outside of the classroom, more than two-thirds of the student body participate in at least one volunteer activity. Additionally, more than half of all undergraduates live in one of the ten residence halls or apartment buildings on the 140-acre campus. It can be seen how the collegiate social life flourishes with inner activity among the students who attend this prestigious university.
Johns Hopkins University competes in NCAA Division III athletics, with the exception ofthe men's and women's lacrosse teams, which are Division I.
JOHNS HOPKINS UNIVERSITY: CURRENT STUDENT POPULATION
Total Enrollment 7,047
Undergrad Enrollment 5,066
Freshmen 3,576
% Male/Female 53% / 47%
% From Out of State 90%
% Freshman from Public High School 68%
% Undergrads Live on Campus 53%
% African American 5%
% Asian 20%
% Caucasian 51%
% Hispanic 9%
% Native American <1%
% Mixed (2+ Ethnicities) 4%
% International 9%
# of Countries Represented 71
JOHNS HOPKINS UNIVERSITY: FRESHMAN STUDENT PROFILE
Range SAT Critical Reading 640-740
Range SAT Math 670-770
Range SAT Writing 650-750
Range ACT Composite 30-34
Minimum Paper TOEFL 600
Minimum Web-based TOEFL Not Reported
% Graduated Top 10% of Class 86%
% Graduated Top 25% of Class 98%
% Graduated Top 50% of Class 100%
JOHNS HOPKINS UNIVERSITY: ACADEMICS
Academic Rating 84
% Students Returning for Sophomore Year Not Reported
% Students Graduating within 4 Years 86%
% Students Graduating within 6 Years 92%
Calendar System 4/1/4
Student/Faculty Ratio 13:1
Professor's 'Interesting' Rating 72%
Professor's 'Accessible' Rating 73%
Most classes have 10-19 students.
Most lab/discussion sessions have 20-29 students
JOHNS HOPKINS UNIVERSITY: MOST POPULAR MAJORS
International studies
Public health studies
Biomedical engineering