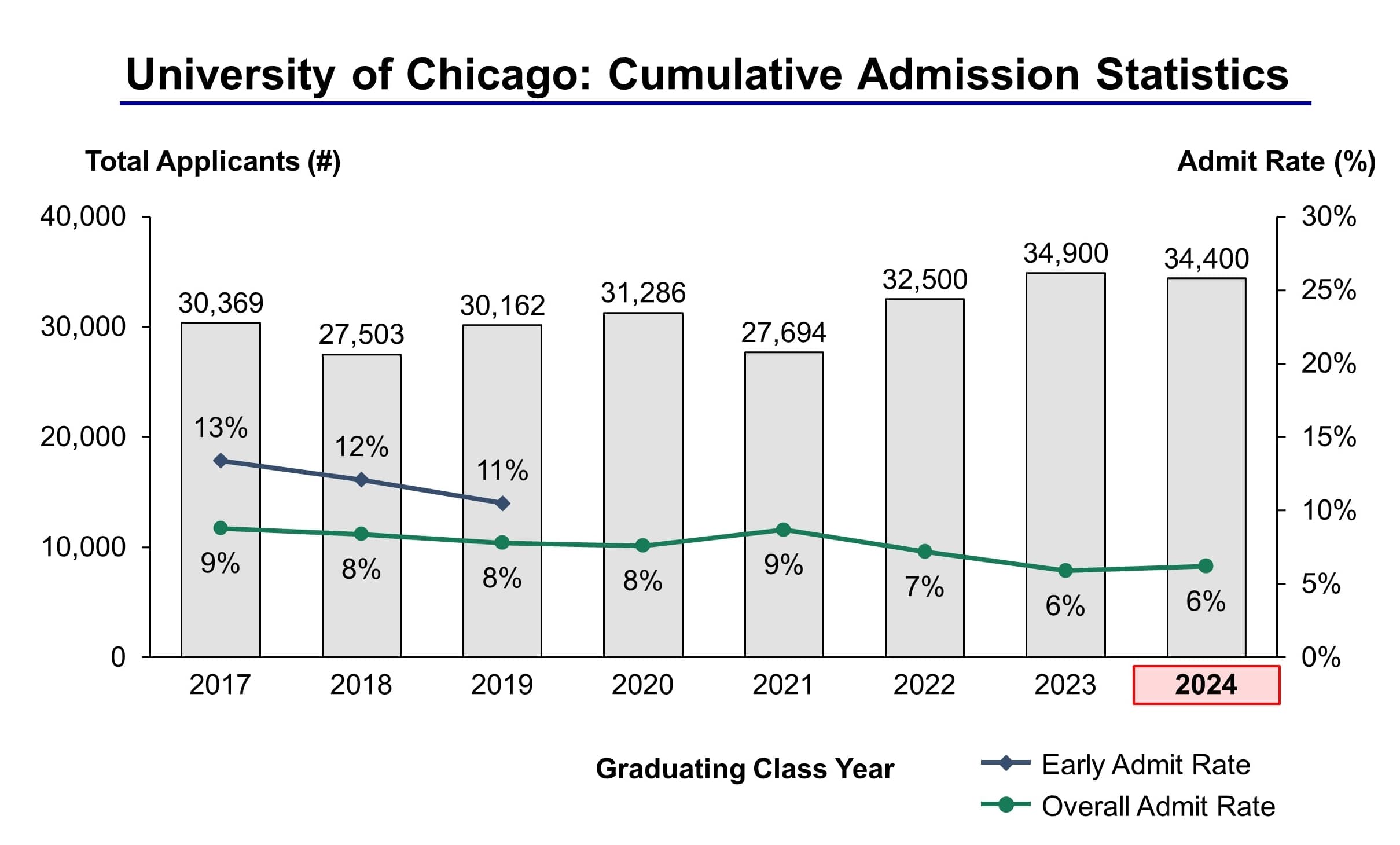 University of Chicago is a highly competitive school and its admissions statistics make University of Chicago one of the 50 most competitive schools for undergraduate admissions globally. Similar to the trends across all top schools, University of Chicago acceptance rates have continued to decline over the past 8 years and will almost certainly continue to do so into the future.
The Class of 2024 was one of the most challenging years to be admitted to University of Chicago ever. For the Class of 2024, 34,400 students applied to University of Chicago of which 2,133 students were accepted, yielding an overall acceptance rate of 6.2%. Overall applications decreased by 1.4% over last year (2023 to 2024) from 34,900 to 34,400.

Founded in 1890 by John D. Rockefeller, the University of Chicago hosts 5,692 undergraduate students and 9,502 graduate, professional, and other students annually. The university can best be described as an intellectual destination that provides transformative education, groundbreaking research and a commitment to enrich society.
The University of Chicago is known for supplying students with a solid core which prepares them for holding their own in the world outside the campus, no matter what the topic may be. The university encourages students to challenge status-quo thinking and has had a major impact on postgraduate work as a result. The University of Chicago has earned a reputation for its ability to produce "teachers who train teachers". Education has become one of the most followed and sought-after career paths among University of Chicago alumni.
When it comes to recent and notable alumni in the field of education, the University of Chicago has produced no fewer than thirty presidents of colleges and universities both across the country as well as internationally, including Y.C. Richard Wong, former Provost and Vice-Chancellor of The University of Hong Kong 2004-2010 and presently director of the Hong Kong Institute of Economics and Business Strategy.
When compared to similar universities, the University of Chicago has a relatively small undergraduate class, with an enrollment of 5,703. By contrast, there are 9,882 graduate students. This small undergraduate enrollment allows for valuable focus and attention being given to the students as they follow some of the university's most popular majors, including economics, biological sciences, politics science and government.
Though the University of Chicago mascot is the Phoenix, both athletes and fans are referred to as "the Maroons." Like various Ivy League schools, the Maroons live in college houses where undergraduates reside with resident staff, as well as students spanning all years.
One Chicago tradition is known as Kuviasungnerk/Kangeiko – Kuvia, where for five days students from each House rise at dawn and learn yoga or participate in the Polar Bear Run.
THE UNIVERSITY OF CHICAGO: CURRENT STUDENT POPULATION
Total Enrollment 14,965
Undergrad Enrollment 5,388
Freshmen 1,457
% Male/Female 52% / 48%
% From Out of State 70%
% Freshman from Public High School 60%
% Undergrads Live on Campus 99%
% African American 5%
% Asian 17%
% Caucasian 43%
% Hispanic 6%
% Native American <1%
% Mixed (2+ Ethnicities) 6%
% International 10%
# of Countries Represented 103
THE UNIVERSITY OF CHICAGO: FRESHMAN STUDENT PROFILE
Range SAT Critical Reading 710-780
Range SAT Math 710-790
Range SAT Writing 700-780
Range ACT Composite 31-34
Minimum Paper TOEFL 600
Minimum Web-based TOEFL 104
% Graduated Top 10% of Class 97%
% Graduated Top 25% of Class 99%
% Graduated Top 50% of Class 100%
THE UNIVERSITY OF CHICAGO: ACADEMICS
Academic Rating 95/100
% Students Returning for Sophomore Year 99%
% Students Graduating within 4 Years 86%
% Students Graduating within 6 Years 92%
Calendar System Quarter
Student/Faculty Ratio 7:1
Professor's 'Interesting' Rating 86%
Professor's 'Accessible' Rating 84%
Most classes have fewer than 10-19 students.
Most lab/discussion groups have 10-19 students.
THE UNIVERSITY OF CHICAGO: MOST POPULAR MAJORS
Biology/Biological Sciences
Economics
Political Science and Government