The complex admissions process for schools in the US can seem daunting, and rightly so—many of the world's leading educational institutions are located in the US, so your child can expect tight competition when applying to these prestigious schools.
Decreasing acceptance rates and increasing application rates are two notable trends in top-tier college admissions. These tendencies have made the admissions landscape highly competitive. Students who want to gain admission to top colleges must set themselves apart from the massive pool of applicants.
Understanding the current admissions landscape and its recent trends is vital if you want to help your child craft a strong profile and gain admission to the top colleges and universities. This article outlines the statistics and academic factors that must be considered when applying to a prestigious school. It also reviews the benefits of applying early decision.
General Statistics
The Ivy League, for example, now has an average acceptance rate of approximately 8%—nearly half what it was a decade ago. And this trend does not only apply to Ivy League schools; several educational institutions across the United States are also becoming increasingly competitive.
The competition is even greater among non-legacy, non-minority, and non-athlete applicants. While about 70% of the US population identifies as white or of European descent, only 30% of Ivy League students identify as white or European (not including athletic recruits and legacy students).
Estimated Demographic Breakdown of Ivy League Admissions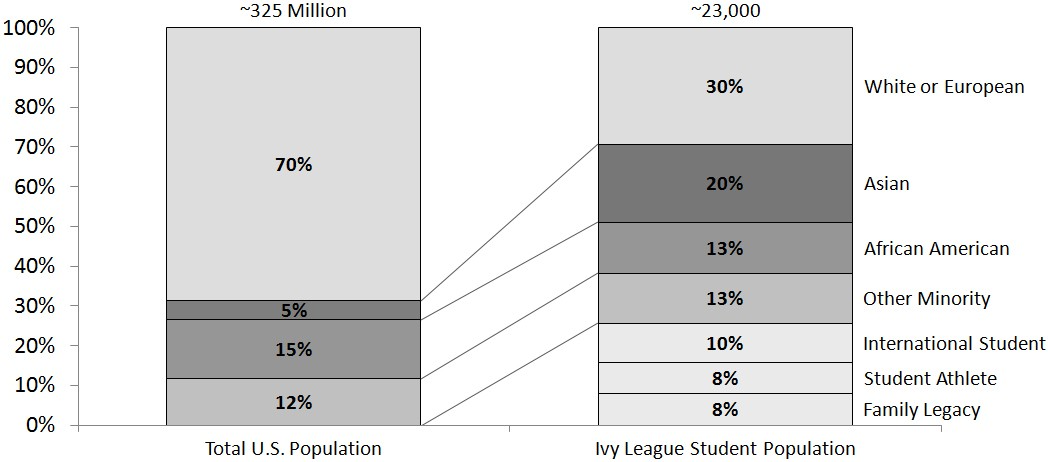 Of the roughly 195,000 applicants who identify as white or of European descent, only about 7,000 are accepted to Ivy League schools. This means that the acceptance rate for such students is about 3.6%.
Academic Factors
Top colleges have high academic standards. Still, many students with phenomenal academic records are rejected by top-tier universities and colleges. In fact, most applicants to top schools are academically qualified for admission. The most selective colleges reject valedictorians and applicants with perfect exam scores; admission to these colleges depends on more than just high grades and test scores.
However, GPAs, class ranks, and entrance exam scores do matter. According to admissions statistics for prestigious colleges, your child will need to aim for outstanding ACT and SAT scores if they are interested in schools such as Harvard, Yale, or Duke. The top schools look for bright, hardworking, and responsible students; these qualities need to be reflected in their academic records. Still, the key to gaining admission to these prestigious schools is to craft a strong admissions profile with a unifying theme and a compelling narrative. Read our founder's story to see how he developed an exceptional admissions profile.
Early Decision
Generally speaking, early action applicants have a higher statistical likelihood of gaining admission than regular decision applicants. For example, admission rates for the University of Pennsylvania's early decision applicants have increased; the overall acceptance rate is 9.2%, but the early decision acceptance rate is 22.0%.
Similarly, Dartmouth College has an overall acceptance rate of 10.4% but an early decision acceptance rate of 27.8%. In general, acceptance rates across top schools show that a growing number of students are being admitted through early decision and early action programs. Therefore, if your child knows they want to attend a particular school, applying early decision increases their chances of admission significantly.
As the above data shows, successfully applying to top-tier schools requires hard work and careful planning. Ivy League Prep is here to help you make your child's college admission process a success. Book an initial consultation today.