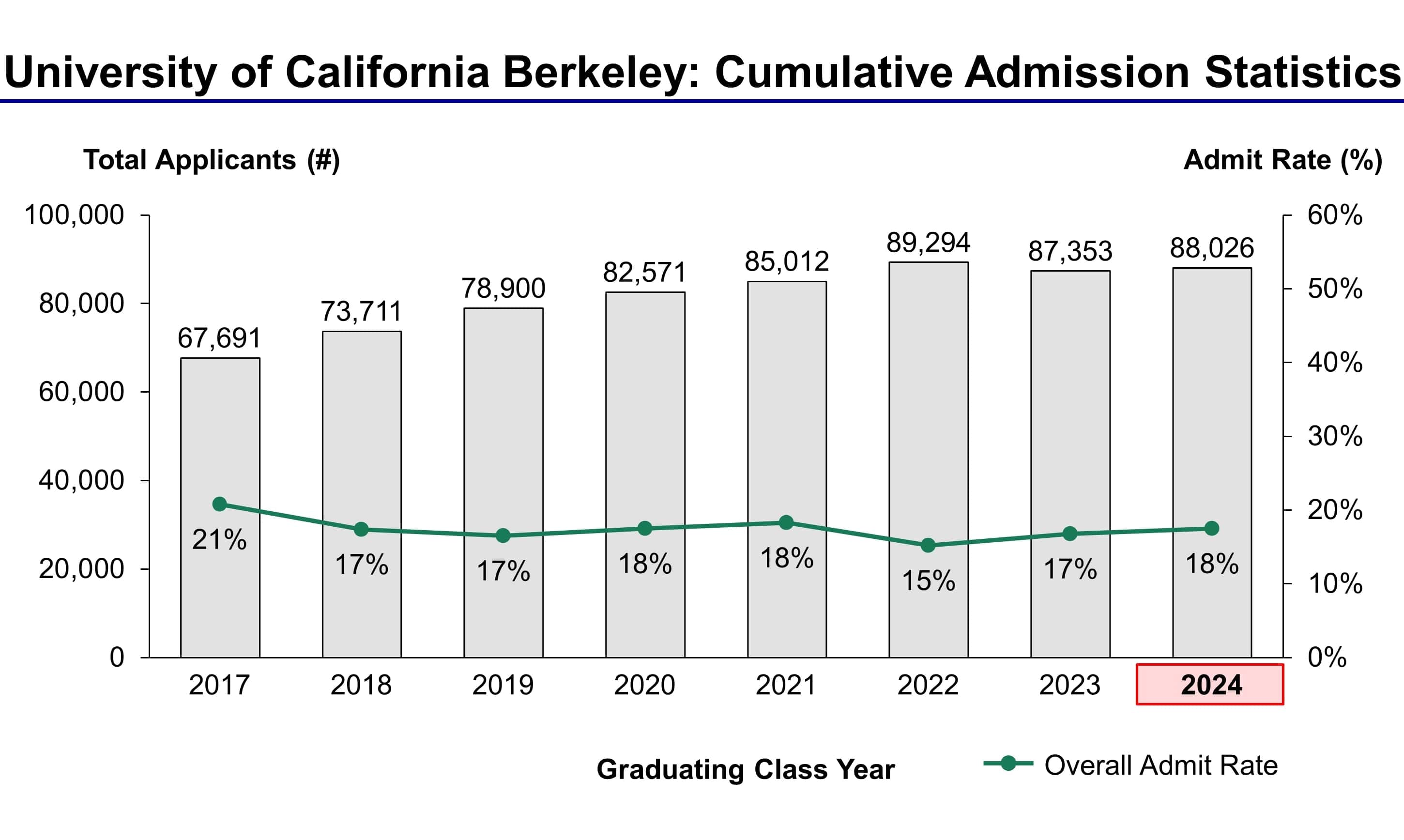 University of California, Berkeley is a highly competitive school and its admissions statistics make University of California, Berkeley one of the 50 most competitive schools for undergraduate admissions globally. Similar to the trends across all top schools, University of California, Berkeley acceptance rates have continued to decline over the past 8 years and will almost certainly continue to do so into the future.
The Class of 2024 was one of the most challenging years to be admitted to University of California, Berkeley ever. For the Class of 2024, 88,026 students applied to University of California, Berkeley of which 15,404 students were accepted, yielding an overall acceptance rate of 17.5%. Overall applications increased by 0.8% over last year (2023 to 2024) from 87,353 to 88,026.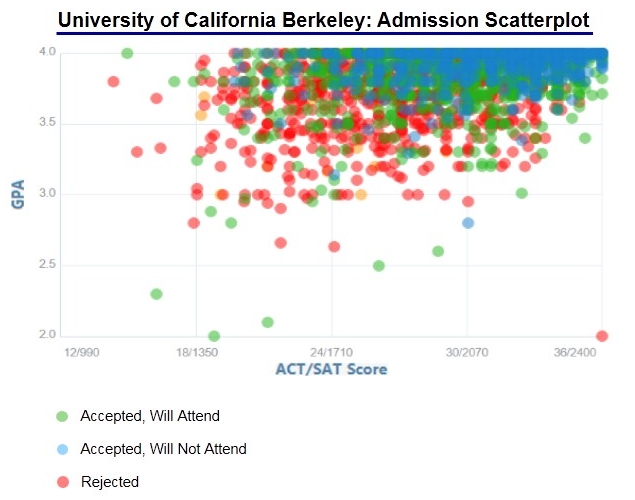 The University of California's Berkeley campus occupies 1,232 acres by the San Francisco Bay, within the city of Berkeley itself. In the 1960s, the university was the site of the Free Speech Movement, a result of the student reaction to the administration's attempt to shut down campus political activity.
The university is made up of fourteen schools, including the well-known law school, the College of Environmental Design, the College of Engineering, and the Haas School of Business. There are more than 7,000 courses and more than 100 undergraduate majors. Students may also opt to design their own majors.
The university's library system contains more than 10 million books and more than 400 special collections. Besides the Doer/Moffit undergraduate libraries, there are about forty others for specific schools and programs.
UC Berkeley's faculty includes MacArthur fellows, Pulitzer Prize winners, members of the Academy of the Arts and Sciences, and Nobel laureates. Classes are open to all students. Additionally, there are nearly 100 freshman and sophomore seminars each semester on subjects of special interest to the professors who lead them.
The most recent total undergraduate enrollment was 25,951, of which fifty-two percent were female and forty-eight percent were male. Instate tuition for the 2014-15 school year was $13,844, and $25,064 for out-of-state. Students are guaranteed housing on campus for their freshman and sophomore years in the residence halls.
Among many notable Berkeley alumni are US Supreme Court Chief Justice Earl Warren, co-founder of Apple Computers Steve Wozniak, cartoonist and Pulitzer Prize winner Rube Goldberg, and Academy Award winner Gregory Peck.
The Golden Bears athletic teams compete in the Pac-12 Conference. More than thirty men's and women's intercollegiate squads have won eighty-five national team titles in fifteen different sports.
There are more than fifty-five fraternity and sorority chapters, as well as more than 1,200 student organizations to choose from, from political interests to hang-gliding.
UNIVERSITY OF CALIFORNIA—BERKLEY: CURRENT STUDENT POPULATION
Total Enrollment 36,142
Undergrad Enrollment 22,885
Freshmen 4,443
% Male/Female 47% / 53%
% From Out of State 25%
% Freshman from Public High School Not Reported
% Undergrads Live on Campus 26%
% African American 3%
% Asian 37%
% Caucasian 30%
% Hispanic 12%
% Native American <1%
% Mixed (2+ Ethnicities) 3%
% International 9%
# of Countries Represented Not Reported
UNIVERSITY OF CALIFORNIA—BERKLEY: FRESHMAN STUDENT PROFILE
Range SAT Critical Reading 590-720
Range SAT Math 630-770
Range SAT Writing 620-750
Range ACT Composite 27-33
Minimum Paper TOEFL 550
Minimum Web-based TOEFL 80
% Graduated Top 10% of Class 98%
% Graduated Top 25% of Class 100%
% Graduated Top 50% of Class 100%
UNIVERSITY OF CALIFORNIA—BERKLEY: ACADEMICS
Academic Rating 83/100
% Students Returning for Sophomore Year 96%
% Students Graduating within 4 Years 71%
% Students Graduating within 6 Years 91%
Calendar System Semester
Student/Faculty Ratio 17:1
Professor's 'Interesting' Rating 74%
Professor's 'Accessible' Rating 69%
Most classes have 9-29 students.
UNIVERSITY OF CALIFORNIA—BERKLEY: MOST POPULAR MAJORS
Computer Engineering
English Language and Literature
Political Science and Government
Political Science