At Ivy League Prep, our methodology is a proven, data-driven model for maximizing students' chances of getting into top schools. Our method emphasizes tactical decision making, creative strategy, and a focus on spending time in such a way that students get the most value per hour when developing their admissions profiles.
Experience-Based Advice
Solid grades and excellent test scores are not enough because most applicants to top schools excel academically. If your child wants to get into a top school, they must stand out.
Therefore, developing a successful admissions profile is more than simply excelling in challenging academic courses throughout high school. Crafting a successful admissions profile involves being academically diverse, community-minded, innovative, and highly focused on one area of interest. Students must unify all these elements into a clear, focused theme and a compelling personal narrative.
Our Data-Driven Approach
Ivy League Prep employs a data-driven approach to college admissions. We carefully examine the current admissions landscape and refine our methodology based on what students need to be admitted to top colleges.
Even though several factors are involved in every college application, not all factors are weighted equally. In fact, extracurricular activities and third-party recognition are more significant for top-tier schools when compared to low- and mid-tier schools. While high standardized test scores and written application components are essential for getting into top colleges, extracurriculars and recognition are even more critical. The following graph demonstrates this trend:
Percent Weight of Admissions Components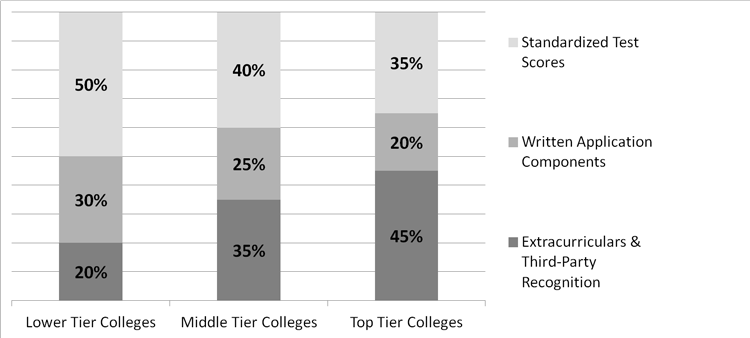 Unlike school guidance counselors, who want to keep every parent happy and usually give a handful of students all their attention, Ivy League Prep offers its clients total commitment without conflicts of interest or unclear expectations.
We offer each student unbiased, straightforward advice to help them develop the most competitive admissions profile possible. Our goal is to give students the knowledge and direction they need to get into top colleges.
To gain admission into top schools, students must focus on the factors that will truly make their applications successful. Therefore, we prioritize certain activities over others to ensure that the limited number of available hours are efficiently used to make the student's profile more competitive.
We help students use the time they spend on certain activities or interests to augment their profile in various ways (e.g., awards, recommendations, etc.), thereby maximizing the return on the hours they invest. Instead of using a laundry list approach, we suggest that students pursue a handful of high-impact activities that will improve their chances of admission.
Our Long-Term Strategy
Our overriding philosophy at Ivy League Prep is to encourage an early, diligent focus on pursuing what matters most for a successful admissions profile. College preparation should begin long before the senior year of high school, and many of our clients contact us while their students are still in middle school.
You should invest time in developing your child's interests outside of school. Doing so before they reach high school will be much easier. For instance, if your child really enjoys math, pursue a summer program that will allow them to move up a level in math. If your child loves to read and write, consider working with a tutor to help your child write a book.
The key is to draw upon your child's interests and expose them to that subject outside of the classroom. Give your child opportunities to pursue and explore potential areas of interest.
Helping a child identify and pursue an innate ability or interest early on makes it more likely for them to be at the top of their field when the time comes to apply for college. The key to maximizing the impact of these activities is to start early and pursue the goal of differentiation during the admissions process.