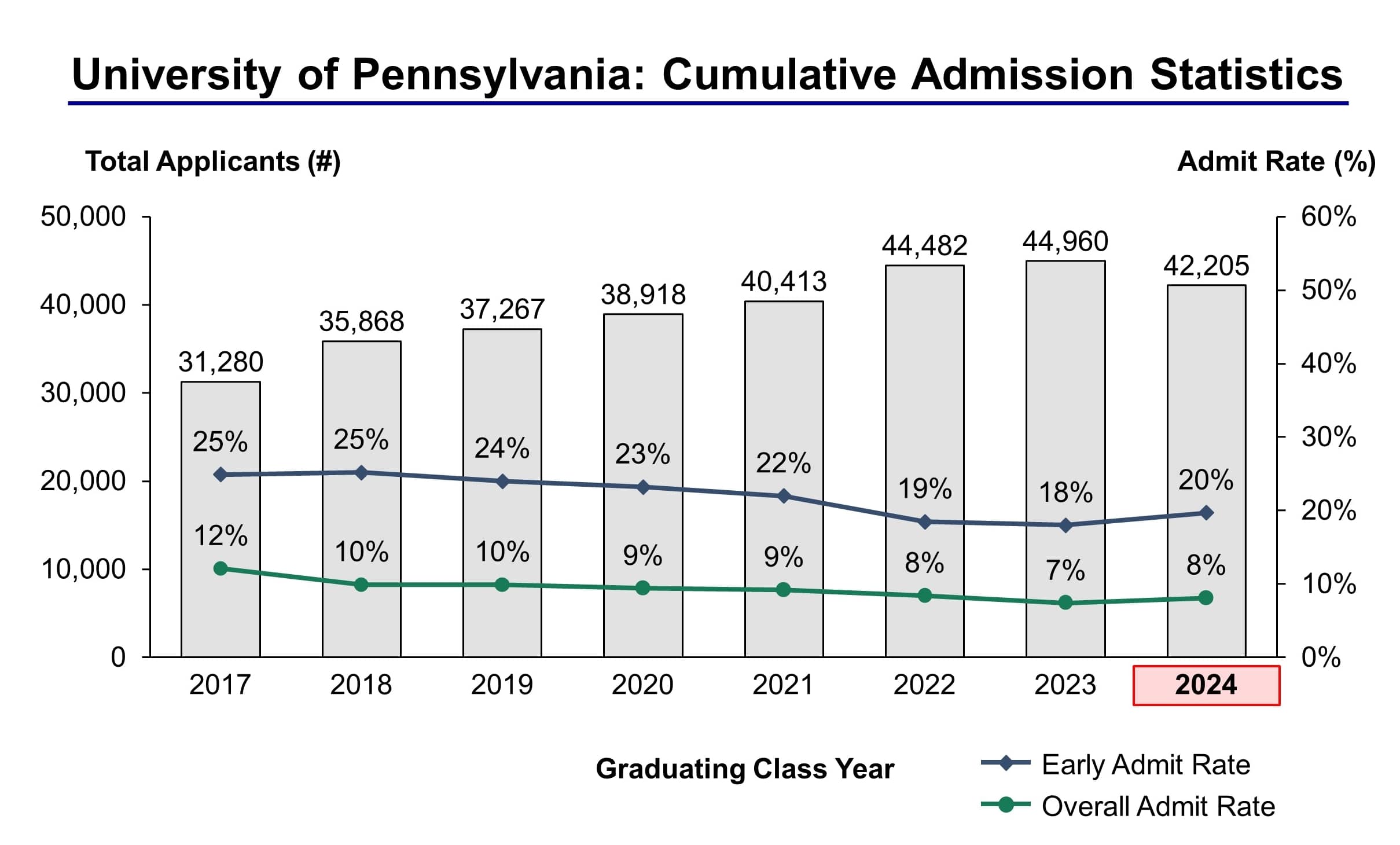 University of Pennsylvania is an Ivy League School and its admissions statistics fall in the middle of all Ivy League Schools. Similar to the trends across all top schools, University of Pennsylvania acceptance rates have continued to decline over the past 8 years and will almost certainly continue to do so into the future.
The Class of 2024 was one of the most challenging years to be admitted to University of Pennsylvania ever. For the Class of 2024, 42,205 students applied to University of Pennsylvania of which 3,404 students were accepted, yielding an overall acceptance rate of 8.1%. Overall applications decreased by 6.1% over last year (2023 to 2024) from 44,960 to 42,205.
For the Class of 2024, 1,269 students were admitted through the early admissions process. Total early applications totaled 6,453, yielding an early acceptance rate of 19.7%. Early applications decreased by 9.2% over last year (2023 to 2024) from 7,110 to 6,453.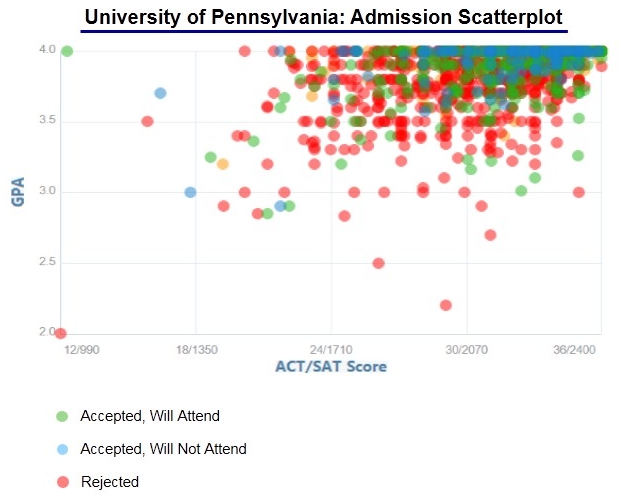 The University of Pennsylvania was founded by Benjamin Franklin and George Whitefield in 1740 on the premise that educational programs should be focused as much on practical education for commerce and public service, as they should on the classics and theology. Now ranked number twelve on Forbes' list of top colleges, The University of Pennsylvania (UPenn) is also number six on the list of top research schools in the United States.
UPenn's medical, dental, business, law, engineering, communications, and nursing schools all claim notable graduates. The University of Pennsylvania has placed prominent figures in practically every field imaginable. UPenn is even able to claim twenty-five billionaire alumni, including both Warren Buffett and Donald Trump.
Approximately 21,441 full-time students attend UPenn's four undergraduate schools, and twelve graduate and professional schools each year. A major research university, UPenn is furnished with 141 research centers and institutes. Its research budget is $851 million and it has a research community of nearly 11,000.
The UPenn athletes, better known as the Quakers, have a couple of time-honored traditions that they share with their fans: "The Line'"; a 24-hour overnight camp-out for choice basketball season tickets, or the "there's the toast" tradition, where at all home football games the Quaker mascot directs the crowd to toss pieces of toast onto the playing field, resulting in about 30,000 slices of bread per game on the sidelines.
UNIVERSITY OF PENNSYLVANIA: CURRENT STUDENT POPULATION
Total Enrollment 19,919
Undergrad Enrollment 9,779
Freshmen 2,421
% Male/Female 49% / 51%
% From Out of State 81%
% Freshman from Public High School 57%
% Undergrads Live on Campus 56%
% African American 7%
% Asian 19%
% Caucasian 46%
% Hispanic 8%
% Native American <1%
% Mixed (2+ Ethnicities) 2%
% International 11%
# of Countries Represented 126
UNIVERSITY OF PENNSYLVANIA: FRESHMAN STUDENT PROFILE
Academic Rating 92/100
% Students Returning for Sophomore Year 98%
% Students Graduating within 4 Years 87%
% Students Graduating within 6 Years 96%
Calendar System Semester
Student/Faculty Ratio 6:1
Professor's 'Interesting' Rating 79%
Professor's 'Accessible' Rating 83%
Most classes have 10-19 students.
DARTMOUTH COLLEGE: MOST POPULAR MAJORS
Finance
Nursing/Registered Nurse (RN;ASN;BSN;MSN)
Economics