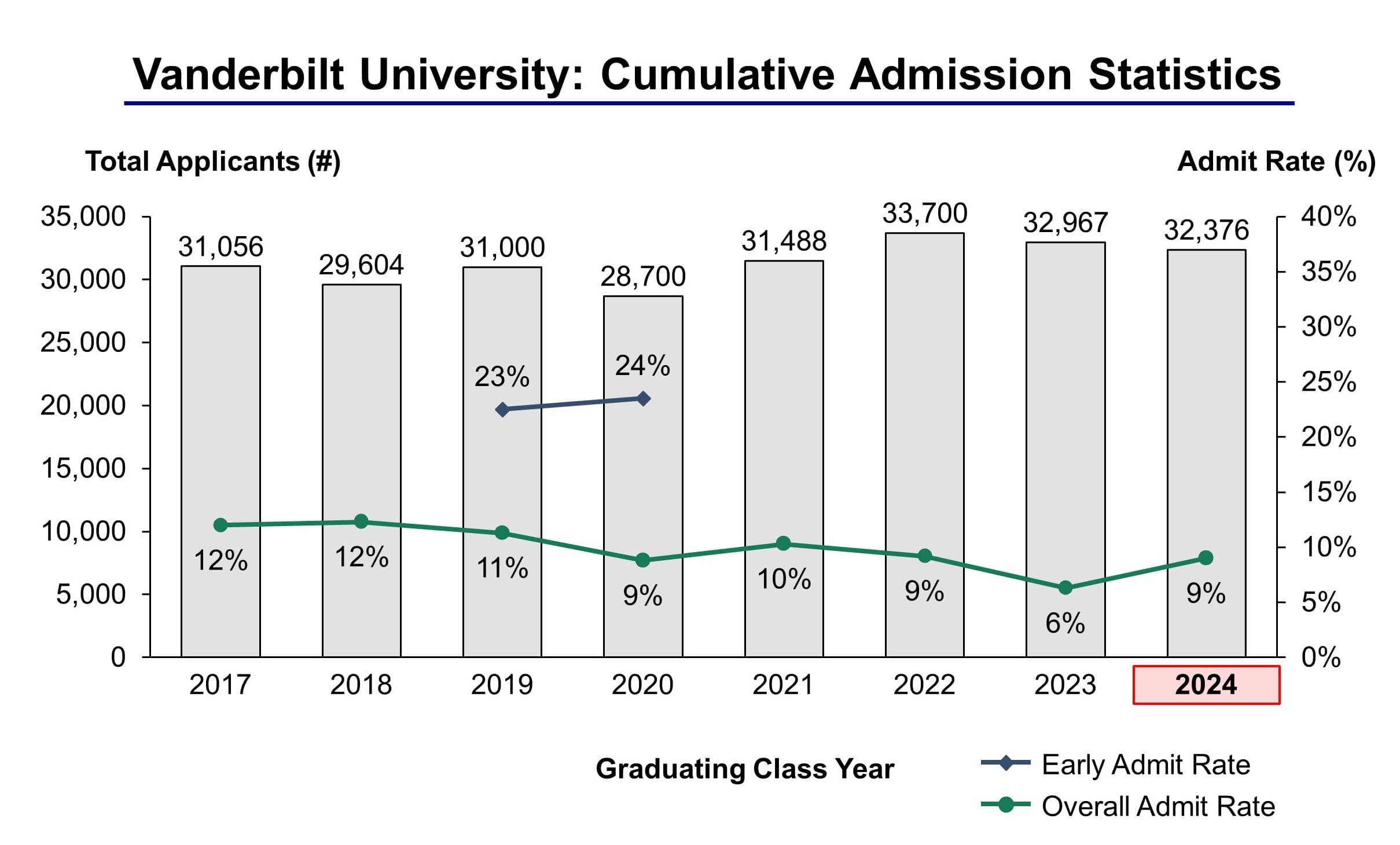 Vanderbilt University is a highly competitive school and its admissions statistics make Vanderbilt University one of the 50 most competitive schools for undergraduate admissions globally. Similar to the trends across all top schools, Vanderbilt University acceptance rates have continued to decline over the past 8 years and will almost certainly continue to do so into the future.
The Class of 2024 was one of the most challenging years to be admitted to Vanderbilt University ever. For the Class of 2024, 32,376 students applied to Vanderbilt University of which 2,907 students were accepted, yielding an overall acceptance rate of 9%. Overall applications decreased by 1.8% over last year (2023 to 2024) from 32,967 to 32,376.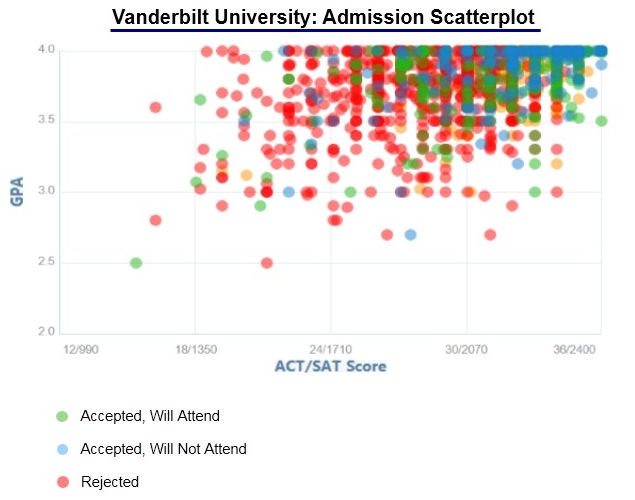 Nashville, Tennessee is home to Vanderbilt University. Founded in 1873, this private research university was built on a vision by Cornelius Vanderbilt to "contribute to strengthening the ties that should exist between all sections of our common country". Today, Vanderbilt is not only recognized around the country, but around the world as a top research university that offers undergraduate programs in various areas, including the liberal arts and sciences, music, human development, engineering and education.
When it comes to Vanderbilt University recognition, the university is nationally known for its schools of business, having one of the top graduate schools of education in the nation and for having a distinguished medical center.
Some of the most notable alumni in those recognized areas are Muhammad Yunus, Ph.D. who won the Nobel Peace Prize in 2006 for establishing the Grameen Bank; Stanley Cohen, a Medical Center faculty member who won a Nobel Prize in Medicine in 1986; and Earl Sutherland Jr., another Medical Center faculty member who in 1971 also won a Nobel Prize in Medicine.
Vanderbilt enrolls 6,767 full-time undergraduate students, eighty-six percent of whom live on campus. Vanderbilt's undergraduate student-to-faculty ratio is 8:1, which is spread over its wide array of colleges and schools, including Vanerbilt College of Arts and Science, Blair School of Music, Divinity School, School of Engineering, Law School, School of Medicine, School of Nursing, Owen Graduate School of Management and the Peabody College of Education and Human Development.
Vanderbilt University has more than 500 clubs and organizations, including fifteen sororities and seventeen fraternities. Student housing includes twenty-six fraternity and sorority houses as well as thirty-nine residence halls and apartments that can accommodate 5,448 students.
The university has a variety of traditions, both recent and well-aged. Some of these traditions include Movie Night, Maggie Moo's, and Commons Lawn, "where Sunday nights are filled with ice cream, movies, and friends". There are also more physically interactive traditions such as the Founders Walk, "which is an old Vanderbilt tradition to welcome new first-year and transfer students where walkers trek the outskirts of campus and end up at Wilson Lawn, but not before encountering a HUGE crowd of our student groups lining the final stretch, cheering and welcoming everyone to campus."
VANDERBILT UNIVERSITY: CURRENT STUDENT POPULATION
Total Enrollment 12,836
Undergrad Enrollment 6,817
Freshmen 1,601
% Male/Female 50% / 50%
% From Out of State 89%
% Freshman from Public High School 58%
% Undergrads Live on Campus 86%
% African American 7%
% Asian 7%
% Caucasian 62%
% Hispanic 8%
% Native American <1%
% Mixed (2+ Ethnicities) 4%
% International 5%
# of Countries Represented 96
VANDERBILT UNIVERSITY: FRESHMAN STUDENT PROFILE
Range SAT Critical Reading 690-770
Range SAT Math 710-790
Range SAT Writing 670-770
Range ACT Composite 32-34
Minimum Paper TOEFL Not Reported
Minimum Web-based TOEFL 100
% Graduated Top 10% of Class 90%
% Graduated Top 25% of Class 98%
% Graduated Top 50% of Class 100%
VANDERBILT UNIVERSITY: ACADEMICS
Academic Rating 92/100
% Students Returning for Sophomore Year 96%
% Students Graduating within 4 Years 87%
% Students Graduating within 6 Years 92%
Calendar System Semester
Student/Faculty Ratio 8:1
Professor's 'Interesting' Rating 92%
Professor's 'Accessible' Rating 88%
Most classes have 10-19 students.
Most lab/discussion groups have 10-19 students.
VANDERBILT UNIVERSITY: MOST POPULAR MAJORS
Engineering Science
Social Sciences
Multi/Interdisciplinary Studies