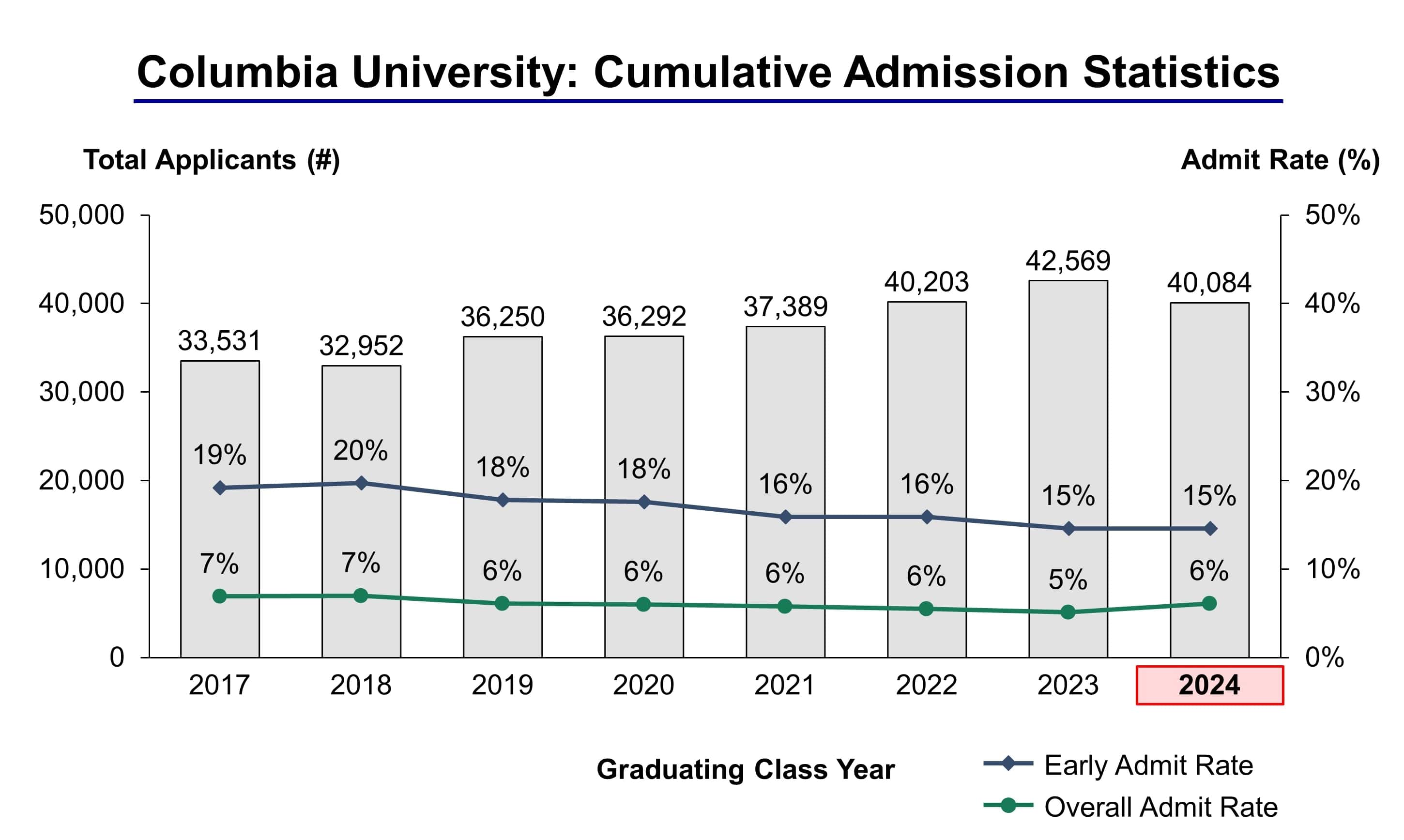 Columbia University is an Ivy League School and its admissions statistics make it one of the most competitive Ivy League Schools. Similar to the trends across all top schools, Columbia University acceptance rates have continued to decline over the past 8 years and will almost certainly continue to do so into the future.
The Class of 2024 was one of the most challenging years to be admitted to Columbia University ever. For the Class of 2024, 40,084 students applied to Columbia University of which 2,465 students were accepted, yielding an overall acceptance rate of 6.1%. Overall applications decreased by 5.8% over last year (2023 to 2024) from 42,569 to 40,084.
For the Class of 2024, 650 students were admitted through the early admissions process. Total early applications totaled 4,461, yielding an early acceptance rate of 14.6%. Early applications remained flat over last year (2023 to 2024) from 4,461 to 4,461.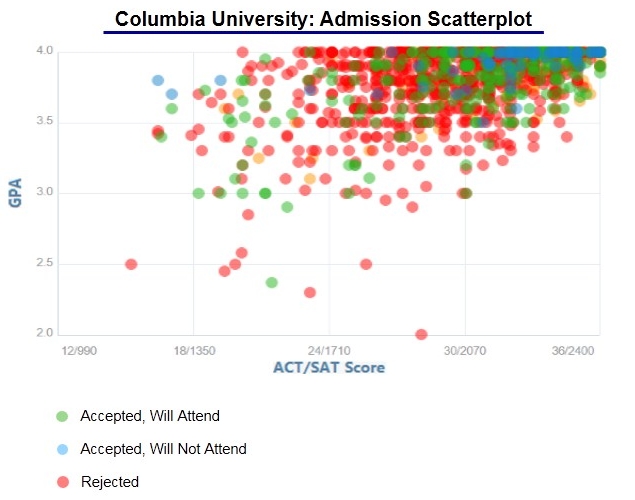 Founded by King George II of England, Columbia University is an Ivy League university located in Morningside Heights, in Upper Manhattan, New York. Established in 1754, it is the oldest institution of higher learning in New York. First known as King's College, today it is officially known as Columbia University.
Columbia University excels in both the sciences and liberal arts. In 1767, Columbia became the first American medical school to grant the MD, and in 1928, the university's coalition with The Presbyterian Hospital formed the first medical center to combine teaching, research, and patient care.
Columbia University's colleges and law school have developed a fairly impressive list of United States Legislator alumni, including nine supreme court justices, more than thirty-five governors, and the university's first President of the United States of America, Barack Obama.
Columbia University enrolls approximately 7,900 students in undergraduate programs, 5,400 students in graduate programs, and 12,000 students in professional programs. The university's various schools include Columbia's School of the Arts, School of International and Public Affairs, School of Public Health, School of Engineering & Applied Science and their School of General Studies which includes its Post-baccalaureate Premedical Program. Some of Columbia's most respected graduate schools include its Graduate School of Arts & Sciences and Graduate School of Business.
Columbia has nearly 500 clubs and organizations, including Pre-professional clubs such as the Charles Drew Premedical Society, Columbia Pre-Law Society, and the Columbia Women's Business Society. Columbia also has many student organizations centered around politics, music, media and publications such as the Columbia Political Review, Musical Theatre Society, Columbia Television, and Echoes (Barnard College Literary Magazine), respectively.
COLUMBIA UNIVERSITY: CURRENT STUDENT POPULATION
Total Enrollment 6,027
Undergrad Enrollment 6,027
Freshmen 1,391
% Male/Female 53% / 47%
% From Out of State 75%
% Freshman from Public High School 63%
% Undergrads Live on Campus 94%
% African American 12%
% Asian 18%
% Caucasian 34%
% Hispanic 14%
% Native American 2%
% Mixed (2+ Ethnicities) 4%
% International 12%
# of Countries Represented 87
COLUMBIA UNIVERSITY: FRESHMAN STUDENT PROFILE
Range SAT Critical Reading 690-780
Range SAT Math 700-790
Range SAT Writing 690-780
Range ACT Composite 31-34
Minimum Paper TOEFL 600
COLUMBIA UNIVERSITY: ACADEMICS
Academic Rating 92/100
% Students Returning for Sophomore Year 99%
% Students Graduating within 4 Years 91%
% Students Graduating within 6 Years 98%
Calendar System Semester
Student/Faculty Ratio 6:1
Professor's 'Interesting' Rating 76%
Professor's 'Accessible' Rating 77%
Most classes have 10-19 students.
COLUMBIA UNIVERSITY: MOST POPULAR MAJORS
Engineering
English Language and Literature
Political Science and Government