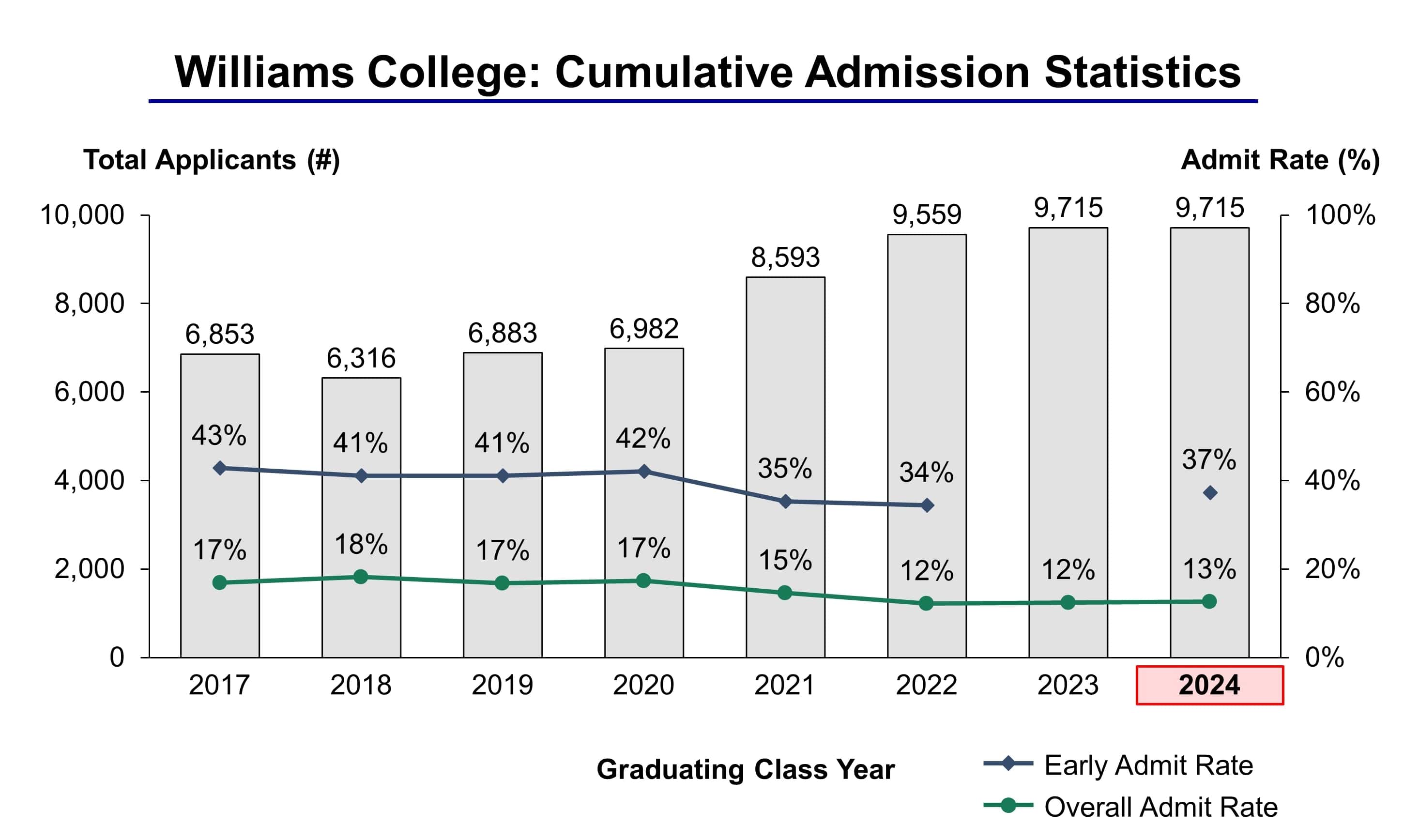 Williams College is a highly competitive school and its admissions statistics make Williams College one of the 50 most competitive schools for undergraduate admissions globally. Similar to the trends across all top schools, Williams College acceptance rates have continued to decline over the past 8 years and will almost certainly continue to do so into the future.
The Class of 2024 was one of the most challenging years to be admitted to Williams College ever. For the Class of 2024, 9,715 students applied to Williams College of which 1,224 students were accepted, yielding an overall acceptance rate of 12.6%. Overall applications remained flat over last year (2023 to 2024) from 9,715 to 9,715.
For the Class of 2024, 257 students were admitted through the early admissions process. Total early applications totaled 689, yielding an early acceptance rate of 37.3%.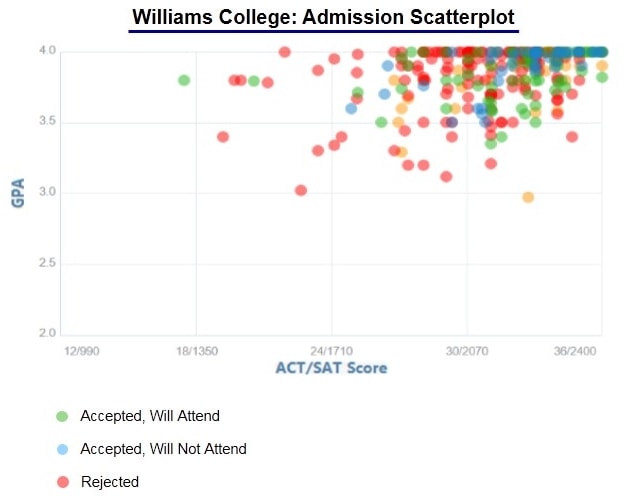 Williams College is located in Williamstown, Massachusetts and is situated between the foothills of the Berkshire Mountains and the fringes of urban settings. Established in 1793, Forbes ranks Williams College as the number one top college in America, first in private colleges, first in the Northeast and third in Grateful Grads, as of 2015. The elite school has thirty-six majors available with no required courses; the exception being that all students must complete three arts and humanities courses, three social sciences courses and three science and math courses.
Williams College is known to attract talented, highly motivated students and faculty. Williams College is also known to be first for many things, such as being the world's first society of alumni, the first to wear caps and gowns for graduations, and the first to host an intercollegiate baseball game. More than 60% of Williams College graduates have gone on to earn at least one graduate or professional degree, with the most popular degrees being in the areas of management, education, law, and health care.
Some of Williams' most notable alumni include: Kristin Forbes, Associate Professor of International Management at the MIT Sloan School of Management, and Member of the Council of Economic Advisers—confirmed by the United States Senate in 2003, she is the youngest person to ever hold this position; Morris Leopold Ernst, lawyer and co-founder of the American Civil Liberties Union, and Jonathan Fielding, M.D., Director of the Los Angeles County Department of Public Health.
The undergraduate enrollment at Williams College is approximately 2,000 students, with a student-faculty ratio of about 7:1. Williams College has three academic divisions (languages and the arts, social sciences, and science and mathematics) that encompass its twenty-five departments, thirty-six majors, and several concentrations and special programs. Williams College has Oxford-style tutorials that require heavy student participation.
Although fraternities have been phased out since 1962, Williams has about 150 student organizations with about 96% of all students participating in at least one extracurricular activity such as the Williams College Law Society, Williams College Literary Review, Williams College Medical Reserve Corps and the Williams College Nordic Ski Club.
WILLIAMS COLLEGE: CURRENT STUDENT POPULATION
Total Enrollment 2,109
Undergrad Enrollment 2,053
Freshmen 551
% Male/Female 47% / 53%
% From Out of State 70%
% Freshman from Public High School 60%
% Undergrads Live on Campus 99%
% African American 11%
% Asian 13%
% Caucasian 65%
% Hispanic 10%
% Native American 1%
% Mixed (2+ Ethnicities) 5%
% International 6%
# of Countries Represented 79
WILLIAMS COLLEGE: FRESHMAN STUDENT PROFILE
Range SAT Critical Reading 670-780
Range SAT Math 660-780
Range SAT Writing 680-780
Range ACT Composite 30-34
Minimum Paper TOEFL Not Reported
Minimum Web-based TOEFL Not Reported
% Graduated Top 10% of Class 92%
% Graduated Top 25% of Class 97%
% Graduated Top 50% of Class 100%
WILLIAMS COLLEGE: ACADEMICS
Academic Rating 92/100
% Students Returning for Sophomore Year 96%
% Students Graduating within 4 Years 91%
% Students Graduating within 6 Years 96%
Calendar System 4/1/4
Student/Faculty Ratio 7:1
Professor's 'Interesting' Rating 90%
Professor's 'Accessible' Rating 94%
Most classes have fewer than 10 students.
Most lab/discussion groups have 10-19 students.
WILLIAMS COLLEGE: MOST POPULAR MAJORS
Economics
Psychology
Biology
English Literature
Political Science and Government