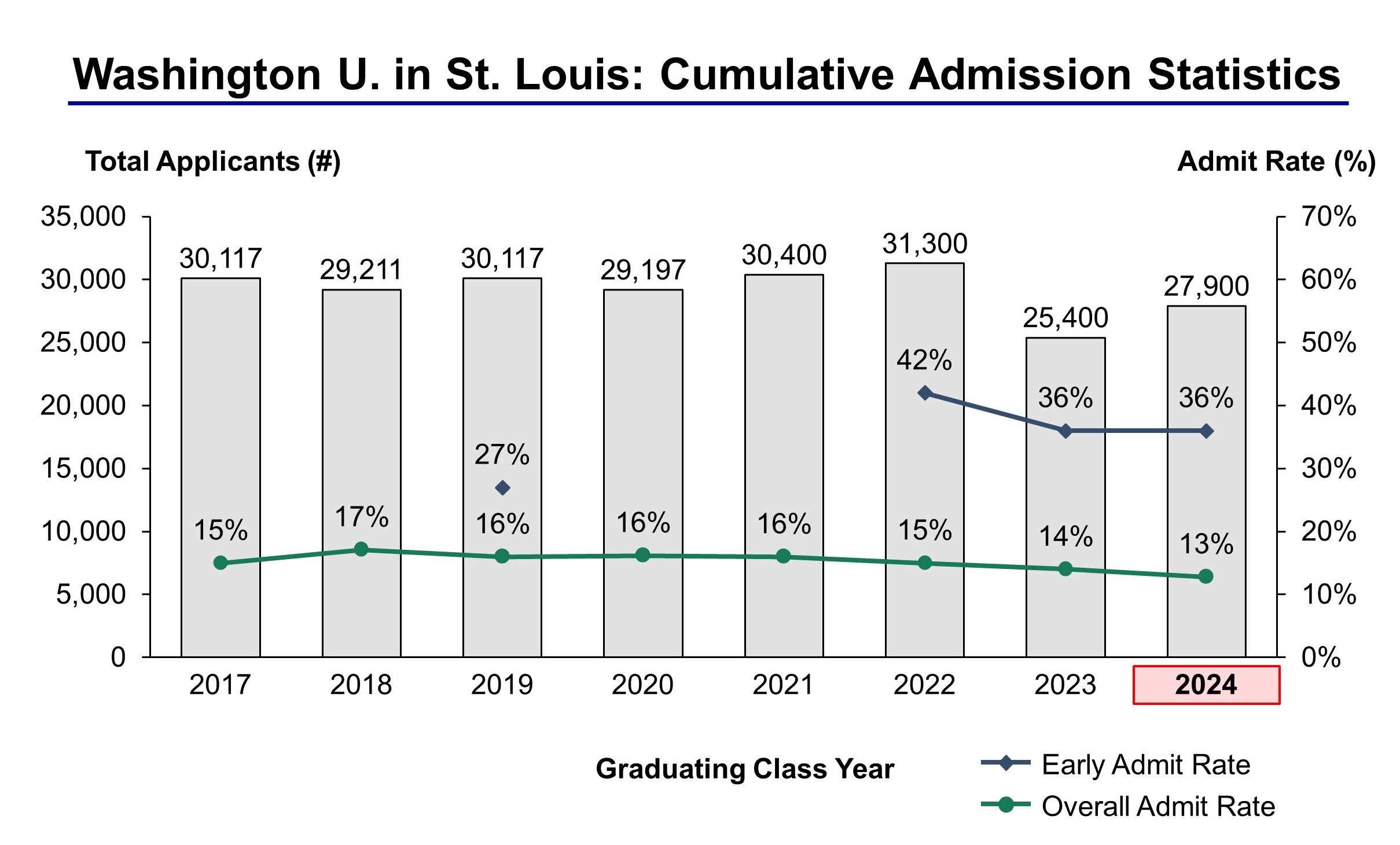 Washington University in St. Louis is a highly competitive school and its admissions statistics make Washington University in St. Louis one of the 50 most competitive schools for undergraduate admissions globally. Similar to the trends across all top schools, Washington University in St. Louis acceptance rates have continued to decline over the past 8 years and will almost certainly continue to do so into the future.
The Class of 2024 was the single most challenging year to be admitted to Washington University in St. Louis ever. For the Class of 2024, 27,900 students applied to Washington University in St. Louis of which 3,561 students were accepted, yielding an overall acceptance rate of 12.8%. Overall applications increased by 9.8% over last year (2023 to 2024) from 25,400 to 27,900.
For the Class of 2024, 1,081 students were admitted through the early admissions process. Total early applications totaled 3,000, yielding an early acceptance rate of 36%. Early applications remained flat over last year (2023 to 2024) from 3,000 to 3,000.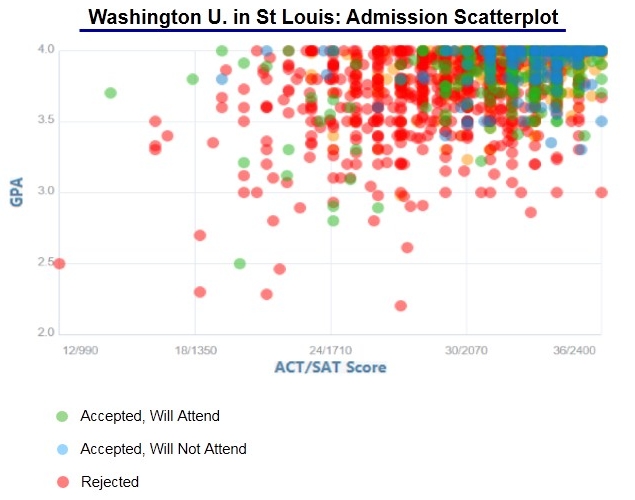 Located in St. Louis, Missouri and founded in 1853, Washington University is a private research institution that considers itself a medium-sized, independent university. The university enrolls 7,336 undergraduates annually on a semester-based schedule.
Washington University recently ranked first in social work, second in best college dorms and fifth as the best undergraduate business school. The university makes it their mission "to discover and disseminate knowledge, and protect the freedom of inquiry through research, teaching, and learning."
Just two of the many alumni who have contributed to the university's reputation for service to society include forerunner of feminist thought in American sociology, Jessie Shirley Bernard, and American civil rights activist, author, civil servant and sociologist, Joyce Ann Ladner.
Washington University has more than 150 buildings on its 2,300 acre campus which accommodates its undergraduate population, along with an additional 6,500 graduate students and about 1,000 non-traditional students (enrolled for evening and weekends).
The list of Washington University traditions is lengthy. Keeping up the school's image through the promotion of social issues, the Dance Marathon benefits the Children's Miracle Network. The All Student Theatre takes students from every major in the university and gives them the opportunity to produce and perform a play at Beaumont Pavilion.
WASHINGTON UNIVERSITY IN ST. LOUIS: CURRENT STUDENT POPULATION
Total Enrollment 13,908
Undergrad Enrollment 7,239
Freshmen 1633
% Male/Female 48% / 52%
% From Out of State 93%
% Freshman from Public High School 57%
% Undergrads Live on Campus 79%
% African American 6%
% Asian 15%
% Caucasian 58%
% Hispanic 4%
% Native American <1%
% Mixed (2+ Ethnicities) 3%
% International 7%
# of Countries Represented 90
WASHINGTON UNIVERSITY IN ST. LOUIS: FRESHMAN STUDENT PROFILE
Range SAT Critical Reading 700-770
Range SAT Math 720-790
Range SAT Writing 690-780
Range ACT Composite 32-34
% Graduated Top 10% of Class 96%
% Graduated Top 25% of Class 100%
% Graduated Top 50% of Class 100%
WASHINGTON UNIVERSITY IN ST. LOUIS: ACADEMICS
Academic Rating 92
% Students Returning for Sophomore Year 97%
% Students Graduating within 4 Years 88%
% Students Graduating within 6 Years 94%
Calendar System Semester
Student/Faculty Ratio 7:1
Professor's 'Interesting' Rating 90%
Professor's 'Accessible' Rating 94%
Most classes have less than 10 students.
Most lab/discussion sessions have 10-19 students.
WASHINGTON UNIVERSITY IN ST. LOUIS: MOST POPULAR MAJORS
Biology/Biological Sciences
Finance
Psychology