I'm Sam Silverman, the founder and managing director of Ivy League prep. In this article, I'd like to use my own experience to illustrate what a successful admissions profile looks like.
A successful profile consists of a strong academic record, a highly focused personal narrative, and accomplishments that show that the applicant will be an asset to the school. Besides academics, the key to my profile's success was its unique narrative focused on my nonprofit, Children's Books on Tape. Additionally, by showcasing my third-party recognition in the form of a grant and other awards, I gave proof of my valuable leadership experience and ability to find innovative solutions. All of these factors helped me gain admission to Yale University.
My Academic Record
As important as the extracurricular component of my profile was, the foundation of my application was my competitive academic record. Without my outstanding academic record, I likely would not have been considered by top colleges.
I took a total of nine AP classes and scored 4s and 5s on all my AP exams but one. My GPA was 3.95. My ACT composite score was 34. I scored 800 on both the Writing and Math sections of the SAT and a 730 on the Reading section, which amounted to a composite score of 2330 (the maximum score was 2400 at the time). I took three SAT Subject Tests (U.S. History, Math IC, and Writing), scoring 780 on each.
Children's Books on Tape
Children's Books on Tape was born out of an experience I had in my early teens when I visited the elementary school where my mother worked. There, I noticed that some elementary school students were struggling to learn to read because their parents did not speak English.
I was inspired to find a solution to that problem, so I founded Children's Books on Tape, an organization that donates listening libraries to Title I elementary schools (schools with high percentages or numbers of children from low-income families) to help students develop their English reading and writing skills.
Founding and managing Children's Books on Tape definitely contributed to my admissions profile's success. But what made me an even more desirable candidate was the recognition I had already received for my efforts in the community. My community project had successfully raised funds not only from relatives and friends but also from local merchants and the local branch of a major bank.
Further, I was able to demonstrate my success using numbers: I had tripled my budget and delivered 150 books on tape during the project's first year. Also, I was able to demonstrate how my leadership, determination, and ingenuity resulted in a partnership with a local university.
All of the work I put into this project culminated in a $5,000 unrestricted grant from the Dwight Allison Fellows Program awarded to me by the Community Foundation for Palm Beach and Martin Counties. This recognition proved that my project was making a real impact on the community.
Measurable success, affiliations, partnerships, third-party recognition, a real impact, and ideas that solve old problems in new ways—these are the kinds of elements that make an admissions profile stand out.
Evidently, it wasn't necessarily my grades or test scores that got me into Yale, though they certainly mattered. It was my work with Children's Books on Tape.
Consider the following comment from the Yale admissions officer for my area: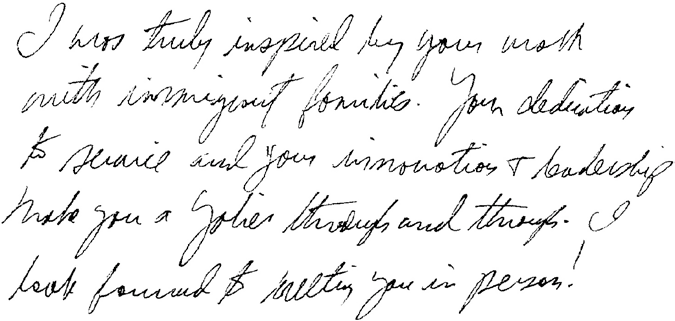 "I was truly inspired by your work with immigrant families. Your dedication to service and your innovation & leadership make you a Yalie through and through. I look forward to meeting you in person!"
Through careful planning and hard work, I was able to create a successful admissions profile. I would be delighted to help your child do the same and gain admission to their first-choice school. Book an initial consultation today.