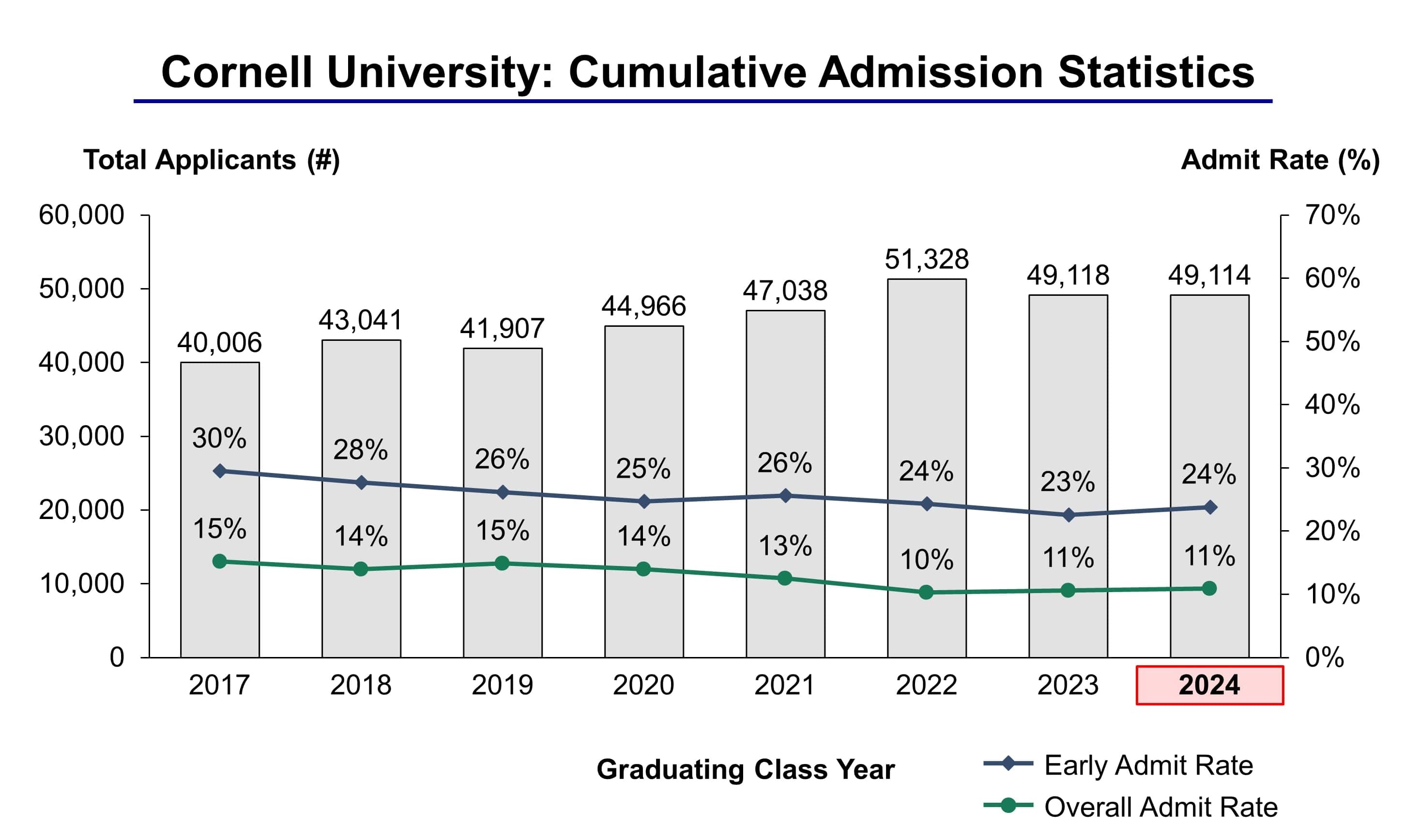 Cornell University is an Ivy League School and its admissions statistics make it the least competitive Ivy League School. Similar to the trends across all top schools, Cornell University acceptance rates have continued to decline over the past 8 years and will almost certainly continue to do so into the future.
The Class of 2024 was one of the most challenging years to be admitted to Cornell University ever. For the Class of 2024, 49,114 students applied to Cornell University of which 5,353 students were accepted, yielding an overall acceptance rate of 10.9%. Overall applications remained flat over last year (2023 to 2024) from 49,118 to 49,114.
For the Class of 2024, 1,576 students were admitted through the early admissions process. Total early applications totaled 6,615, yielding an early acceptance rate of 23.8%. Early applications increased by 7.4% over last year (2023 to 2024) from 6,159 to 6,615.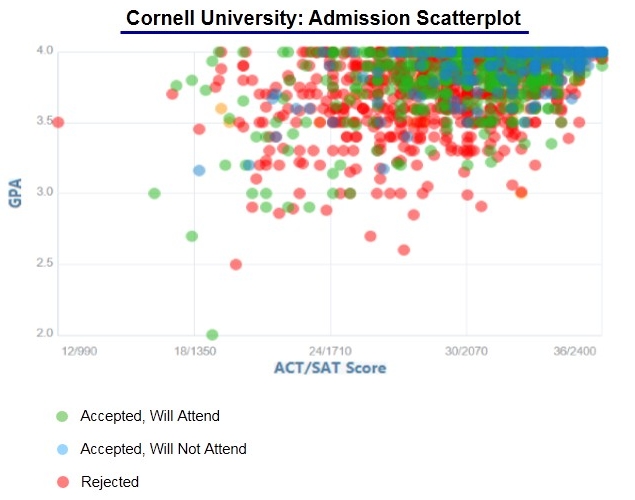 Founded in 1865, Cornell is a privately endowed research university situated on a picturesque 745-acre campus in Ithaca, New York. Ithaca is said to be one of the top 100 places to live in the US, and is renowned for its restaurants, among other things. Ithaca is also a top-10 recreation city, ranked as one of the best 'green' places to live. It's not hard to see why nearly 21,500 aspiring students enroll at this top-ranked national university every year.
Cornell considers itself different from other Ivy League universities, having set out to make "contributions in all fields of knowledge in a manner that prioritizes public engagement to help improve the quality of life in our state, the nation, the world."
As a research university, Cornell is ranked fourth in the world and is known for having the largest number of graduates who go on to pursue doctorates in engineering or in the natural sciences at American institutions. Cornell also ranks fifth in the world in producing graduates who pursue doctorates in any field at American institutions. Additionally, Cornell established the first four-year schools of hotel administration and industrial and labor relations. It awarded the world's first degree in journalism and was the first American university to offer a major in U.S. Studies.
Notable alumni include Hotels.com founder David Litman; Founder, Chairman, and CEO of HEI Hotels & Resorts, Gary Mendell; Dutch architect, journalist, screenwriter and Pritzker Architecture Prize winner Rem Koolhaas, and political commentator Bill Maher. There are currently forty-three Nobel laureates affiliated with Cornell, either as faculty members or alumni.
Cornell has fourteen colleges and schools. The Ithaca campus hosts 14,393 students in seven undergraduate schools and the four graduate and professional schools host 5,023 students & 2,177 students, respectively. An additional two medical graduate and professional schools are located in New York City, and one in Doha, Qatar, making Cornell's total student enrollment approximately 21,593.
Cornell's "Big Red Bears" have an NCAA Division I athletics program with thirty-six varsity sports including lacrosse, hockey, wrestling, football, men' s basketball and women' s ice hockey.
On the twenty-four page list of Cornell University's student organizations, there's something for practically anyone—from the Cornell Beekeeping Club, to the A Cappella Advisory Council, to the public service group A Global Friendship CIO, to the performers known as the Absolute Zero Breakdance Club and even the professionals in the Cornell Accounting Association, just to name a few.
CORNELL UNIVERSITY: CURRENT STUDENT POPULATION
Total Enrollment 21,131
Undergrad Enrollment 14,167
Freshmen 3,282
% Male/Female 50% / 50%
% From Out of State 66%
% Undergrads Live on Campus 57%
% African American  6%
% Asian 16%
% Caucasian  46%
% Hispanic 9%
% Native American <1%
% Mixed (2+ Ethnicities) 4%
% International 9%
# of Countries Represented 77
CORNELL UNIVERSITY: FRESHMAN STUDENT PROFILE
Range SAT Critical Reading 630-730
Range SAT Math 670-770
Range SAT Writing Not Reported
Range ACT Composite 29-33
Minimum Paper TOEFL 600
Minimum Web-based TOEFL 100
% Graduated Top 10% of Class 89%
% Graduated Top 25% of Class 98%
% Graduated Top 50% of Class 99%
CORNELL UNIVERSITY: ACADEMICS
Academic Rating 88/100
% Students Returning for Sophomore Year 97%
% Students Graduating within 4 Years 87%
% Students Graduating within 6 Years Not Reported
Calendar System Semester
Student/Faculty Ratio 9:1
Professor's 'Interesting' Rating 80%
Professor's 'Accessible' Rating 76%
Most classes have fewer than 10 students.
Most lab/discussion groups have 10-19 students.
CORNELL UNIVERSITY: MOST POPULAR MAJORS
Biology/ Biological Sciences
Hotel/Motel Administration/Management
Labor and Industrial Relations