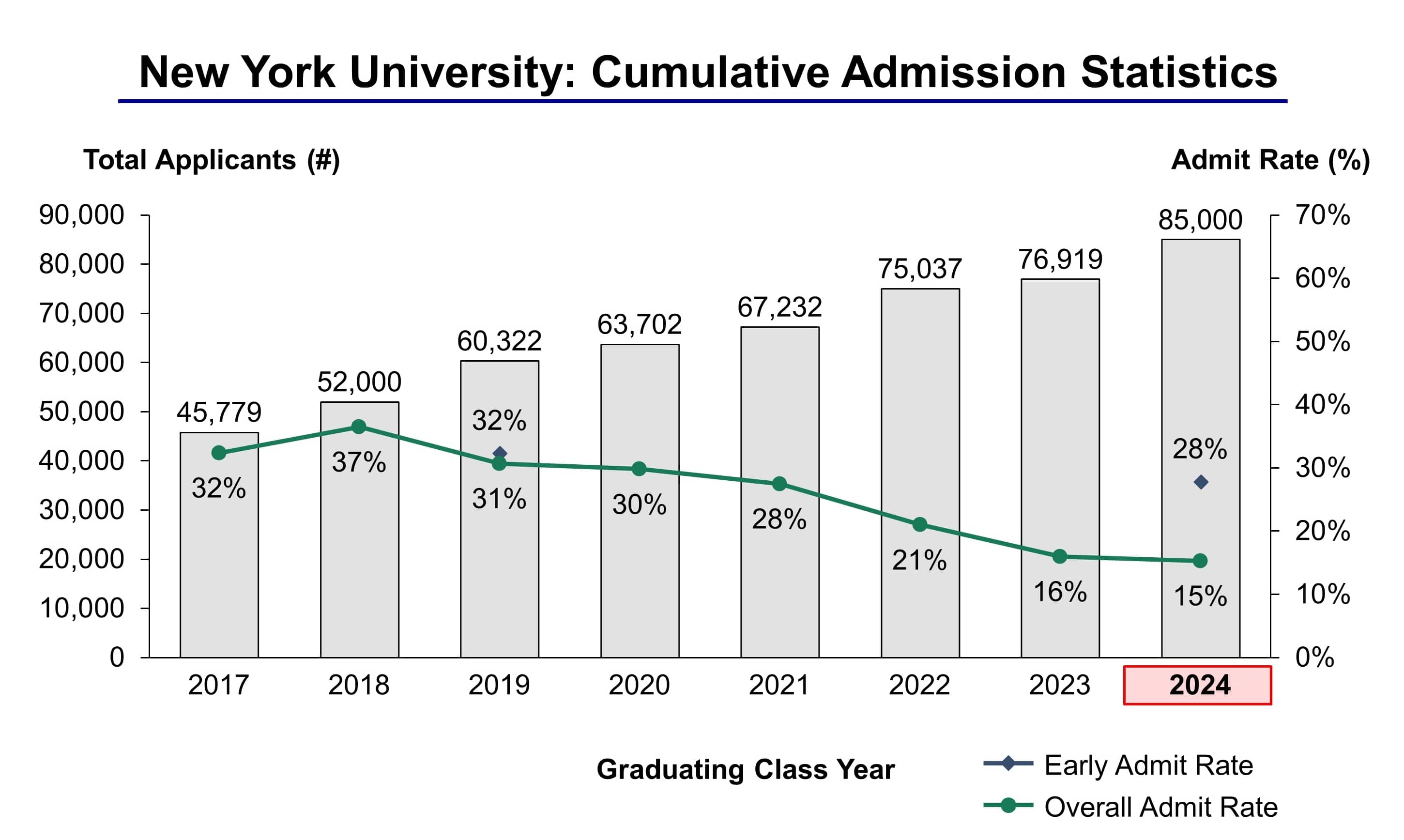 New York University is a highly competitive school and its admissions statistics make New York University one of the 50 most competitive schools for undergraduate admissions globally. Similar to the trends across all top schools, New York University acceptance rates have continued to decline over the past 8 years and will almost certainly continue to do so into the future.
The Class of 2024 was the single most challenging year to be admitted to New York University ever. For the Class of 2024, 85,000 students applied to New York University of which 13,000 students were accepted, yielding an overall acceptance rate of 15.3%. Overall applications increased by 10.5% over last year (2023 to 2024) from 76,919 to 85,000.
For the Class of 2024, 3,848 students were admitted through the early admissions process. Total early applications totaled 13,842, yielding an early acceptance rate of 27.8%. Early applications decreased by 1.1% over last year (2023 to 2024) from 14,000 to 13,842.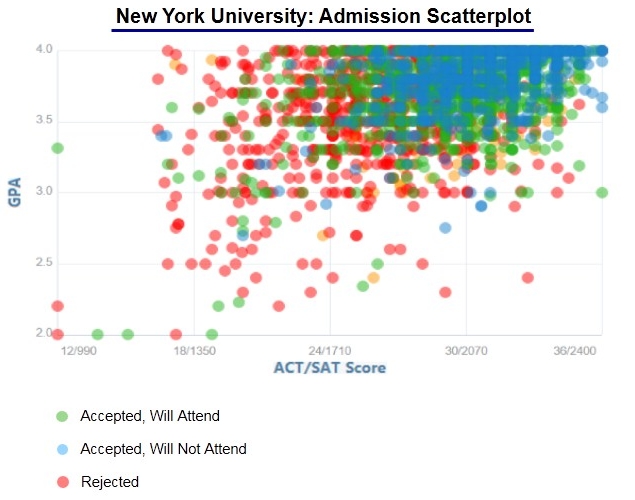 Founded in 1831, New York University was built on Albert Gallatin's idea to create "a system of rational and practical education fitting for all and graciously opened to all." Since that time, NYU has become one of the largest private research universities in the United States and is one of only sixty member institutions distinguished in the Association of American Universities.
Centralized in the heart of Manhattan's Greenwich Village, NYU is in one of the most creative and lively communities in all New York. In addition to the Manhattan campus, NYU also has a Brooklyn campus, and Abu Dhabi and Shanghai also serve as extensions campuses for the university.
New York University states its mission to be "a top quality international center of scholarship, teaching and research". NYU has continually achieved its goal by maintaining its ability to attract and retain outstanding faculty who are leaders in their fields and who are able to encourage students through creative programs that create an intellectually rich environment.
Although NYU has a number of popular majors, such as degrees in Social Sciences, Business, General Studies and Humanities (just to name a few), NYU is most widely known for its exceptional ability to attract top talent interested in drama and film. The renowned Tisch School of the Arts offers both undergraduate and graduate programs in acting, dance, dramatic writing, film, television and more.
Notable alumni from the Tisch School include popular celebrities such as directors Martin Scorsese and Spike Lee; actor, writer and director, Woody Allen; and actresses Whoopi Goldberg and Angelina Jolie, plus many, many more.
NYU enrolls approximately 40,000 students annually in its eighteen schools and colleges. When NYU began in 1831, it started with a mere fourteen professors and lecturers. Today, the university has more than 3,100 full-time members throughout its various departments including the humanities department; sciences and social sciences departments; law, medicine and business departments; education; fine arts, studio arts, performing arts and cinematic arts departments; music; social work and more.
Both students and faculty have access to a full range of extracurricular activities and services that bolster the excitement of the university's academic culture. From medical attention to discount theater tickets, to academic facilities including nine libraries and dozens of specialized centers, to student services, residence halls and dining locations that everyone has access to—NYU has practically everything one could want or need in a university.
NEW YORK UNIVERSITY: CURRENT STUDENT POPULATION
Total Enrollment 43,911
Undergrad Enrollment 22,280
Freshmen 4,870
% Male/Female 40% / 60%
% From Out of State 73%
% Freshman from Public High School 65%
% Undergrads Live on Campus 47%
% African American 4%
% Asian 19%
% Caucasian 41%
% Hispanic 9%
% Native American <1%
% Mixed (2+ Ethnicities) 2%
% International 10%
# of Countries Represented 129
NEW YORK UNIVERSITY: FRESHMAN STUDENT PROFILE
Range SAT Critical Reading 620-710
Range SAT Math 630-740
Range SAT Writing 640-730
Range ACT Composite 28-32
Minimum Paper TOEFL 600
Minimum Web-based TOEFL 100
% Graduated Top 10% of Class 64%
% Graduated Top 25% of Class 92%
% Graduated Top 50% of Class 99%
NEW YORK UNIVERSITY: ACADEMICS
Academic Rating 84
% Students Returning for Sophomore Year 92%
% Students Graduating within 4 Years 79%
% Students Graduating within 6 Years 85%
Calendar System Semester
Student/Faculty Ratio 10:1
Professor's 'Interesting' Rating 90%
Professor's 'Accessible' Rating 85%
Most classes have 10-19 students.
Most lab/discussion groups have 10-19 students
NEW YORK UNIVERSITY: MOST POPULAR MAJORS
Business/Marketing
Social Sciences
Visual/Performing Arts