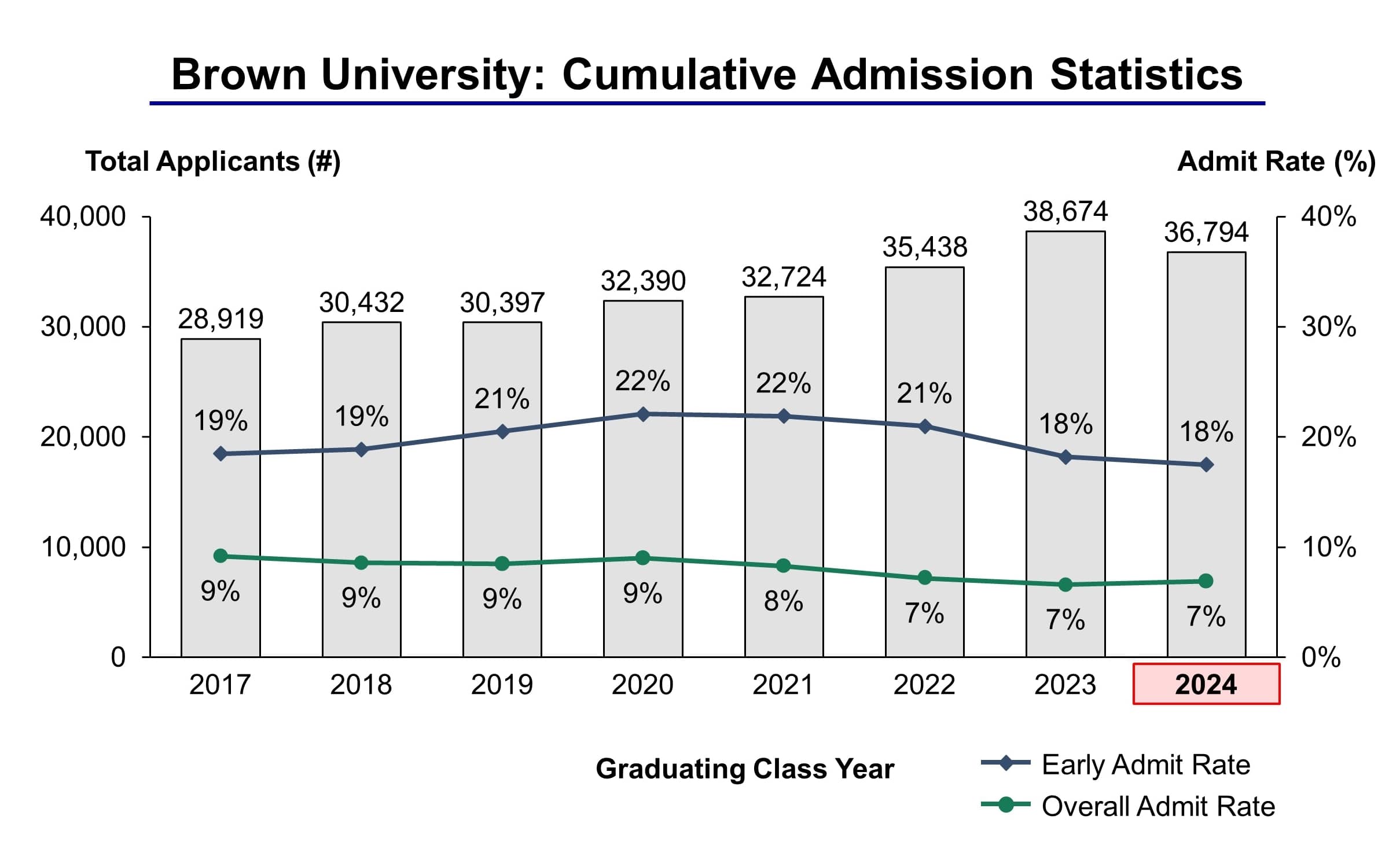 Brown University is an Ivy League School and its admissions statistics fall in the middle of all Ivy League Schools. Similar to the trends across all top schools, Brown University acceptance rates have continued to decline over the past 8 years and will almost certainly continue to do so into the future.
The Class of 2024 was one of the most challenging years to be admitted to Brown University ever. For the Class of 2024, 36,794 students applied to Brown University of which 2,533 students were accepted, yielding an overall acceptance rate of 6.9%. Overall applications decreased by 4.9% over last year (2023 to 2024) from 38,674 to 36,794.
For the Class of 2024, 800 students were admitted through the early admissions process. Total early applications totaled 4,562, yielding an early acceptance rate of 17.5%. Early applications increased by 7.8% over last year (2023 to 2024) from 4,230 to 4,562.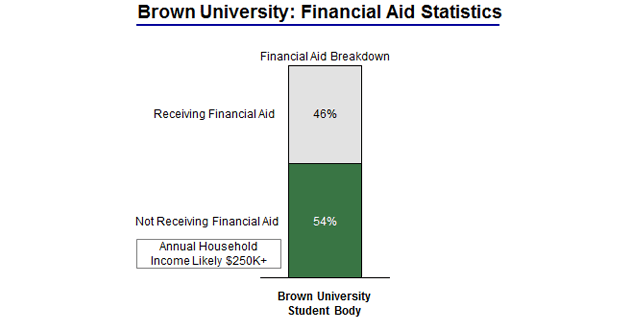 Brown University has one of the most generous student financial aid programs in the world.
Approximately 46% of current Brown University students are receiving some amount of financial aid. What this statistic also tells us is that approximately 54% of Brown students come from families likely in the top tax brackets, with families earning a minimum of $250,000 in annual household income. For the recently admitted Class of 2018, an even higher 67% of students applied for financial aid.
In the U.S. today, the percentage of households with this level of income or above is approximately 4%. Therefore, we can conclude that on the whole, students in Ivy League schools are ~25 times more likely to come from households with a minimum of $250,000 in annual household income compared with students in the U.S. population at large.
What this means is that although the Ivy League is becoming more and more accessible to lower income families, it is still ~50% comprised of students from the wealthiest households in the U.S. and abroad.
It is no surprise that students from these wealthy families end up in the Ivy League and other highly selective schools. These students are groomed from an early age and have access to tremendous resources including standardized test preparation courses, unique internship/research opportunities and access to college admission strategy consulting firms such as Ivy League Prep to give them the "edge" needed to gain admission to these highly selective schools and surpass the competition.