Boston College is a highly competitive school and its admissions statistics make Boston College one of the 50 most competitive schools for undergraduate admissions globally. Similar to the trends across all top schools, Boston College acceptance rates have continued to decline over the past 8 years and will almost certainly continue to do so into the future.
The Class of 2023 was the single most challenging year to be admitted to Boston College ever. For the Class of 2023, 35,500 students applied to Boston College of which 9,500 students were accepted, yielding an overall acceptance rate of 26.8%. Overall applications increased by 14.5% over last year (2022 to 2023) from 31,000 to 35,500.
For the Class of 2023, 4,480 students were admitted through the early admissions process. Total early applications totaled 16,000, yielding an early acceptance rate of 28%. Early applications increased by 54.4% over last year (2022 to 2023) from 10,360 to 16,000.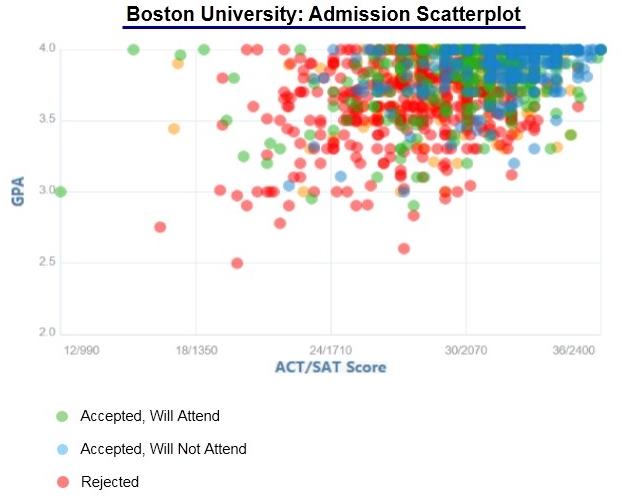 Founded in 1863, Boston College has maintained its Roman Catholic Jesuit religious roots and has become one of America's leading private research universities. Boston College is now ranked thirty-first among national universities by U.S. News & World Report. Over recent years the university's students have received a number of prestigious academic scholarships including Rhodes Scholarships, Marshalls, Goldwaters and Fulbright grants and more.
Boston College is well known for its extremely competitive Presidential Scholar scholarship program which is awarded to only fifteen people, equal to less than a one percent acceptance rate. Some of the university's most popular majors include Economics, Finance, Communication, Biology, Political Science, Psychology, English, Nursing, Applied Psychology & Human Development, and Accounting. Boston College is also known as a university with high research activity. It has highly ranked graduate programs including the Lynch School of Education, Boston College Law School and the Carroll School of Management.
An example of notable alumni in the areas of education, law and business include Peter Dervan, former Chairman, Division of Chemistry and Chemical Engineering at the California Institute of Technology; Brigida Benitez, President, Hispanic Bar Association and proposed alternative nominee for the United States Supreme Court; and Nikesh Arora, President, Global Sales Operations and Business Development at Google. In all, Boston College has more than 160,000 alumni worldwide, and maintains one of the largest alumni association among Catholic universities in the world.
Boston College has eight schools and colleges that enroll 14,100 students with 9,000 of those being undergraduate students. There are 4,500 graduate and professional students and 600 students in the Woods College of Advancing Studies that make up the remainder. Boston College's undergraduate programs consist of its College of Arts & Sciences, Carroll School of Management, Connell School of Nursing, Lynch School of Education and Woods College of Advancing Studies.
Although Boston College has no fraternities or sororities on campus, the university has more than 200 clubs and organizations broken up into the following categories: Academic/Pre-Professional, Campus Ministry, Honor Societies, Intercultural, Music, Art and Performance, Political, Publications and Media, Service and Specific Issues. When it comes to sports, the Boston College Eagles boast one of the highest graduation rates for student-athletes in the country.
BOSTON COLLEGE: CURRENT STUDENT POPULATION
Total Enrollment 13,906
Undergrad Enrollment 9,088
Freshmen 2,113
% Male/Female 47% / 53%
% From Out of State 77%
% Freshman from Public High School 51%
% Undergrads Live on Campus 85%
% African American 4%
% Asian 9%
% Caucasian 62%
% Hispanic 10%
% Native American <1%
% Mixed (2+ Ethnicities) 2%
% International 4%
# of Countries Represented 94
BOSTON COLLEGE: FRESHMAN STUDENT PROFILE
Range SAT Critical Reading 620-710
Range SAT Math 640-740
Range SAT Writing 640-730
Range ACT Composite 29-32
Minimum Paper TOEFL 600
Minimum Web-based TOEFL 100
% Graduated Top 10% of Class 81%
% Graduated Top 25% of Class 96%
% Graduated Top 50% of Class 99%
BOSTON COLLEGE: ACADEMICS
Academic Rating 86/100
% Students Returning for Sophomore Year 95%
% Students Graduating within 4 Years 87%
% Students Graduating within 6 Years 92%
Calendar System Semester
Student/Faculty Ratio 14:1
Professor's 'Interesting' Rating 84%
Professor's 'Accessible' Rating 82%
Most classes have 10-19 students.
BOSTON COLLEGE: MOST POPULAR MAJORS
Communication and Media Studies
English Language and Literature
Finance
Biology