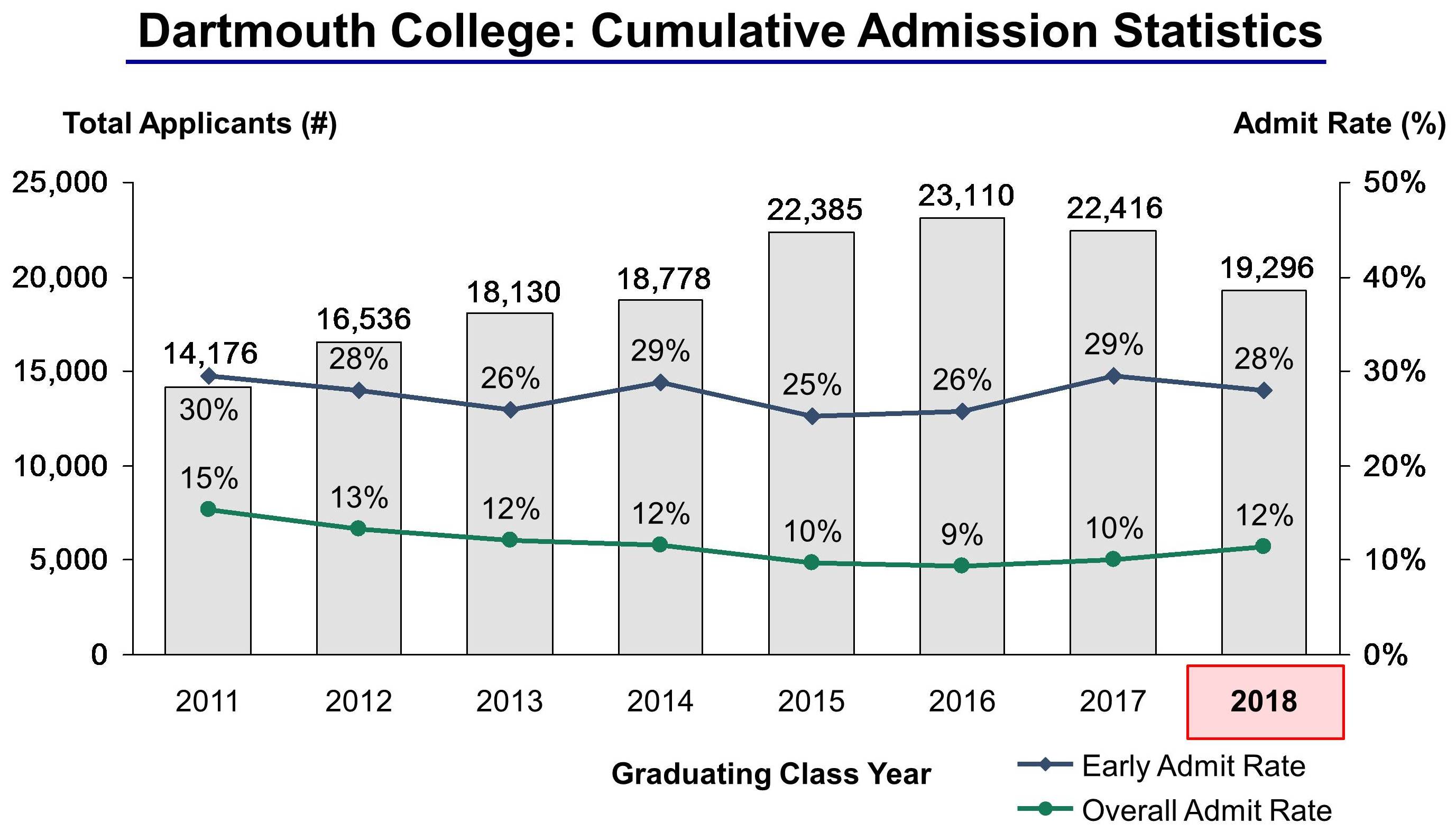 Dartmouth College is an Ivy League School and its admissions statistics fall in the middle of all Ivy League Schools. Similar to the trends across all top schools, Dartmouth College acceptance rates have continued to decline over the past 8 years and will almost certainly continue to do so into the future.
The Class of 2018 was one of the most challenging years to be admitted to Dartmouth College ever. For the Class of 2018, 19,296 students applied to Dartmouth College of which 2,220 students were accepted, yielding an overall acceptance rate of 11.5%. Overall applications decreased by 13.9% over last year (2017 to 2018) from 22,416 to 19,296.
For the Class of 2018, 469 students were admitted through the early admissions process. Total early applications totaled 1,678, yielding an early acceptance rate of 27.9%. Early applications increased by 6.6% over last year (2017 to 2018) from 1,574 to 1,678.
Dartmouth College is located in rural Hanover, New Hampshire on a beautiful 200-acre campus. Established in 1769, Dartmouth is one of America's oldest colleges and one of the oldest in the world. One of the eight Ivy League schools, Dartmouth has a tradition of striving for the highest educational standards with proven success, especially in the areas of engineering, business, medicine and the arts & sciences.
Dartmouth has received outstanding recognition for its undergraduate liberal arts programs and graduate education programs. It has three well-known leading professional schools: the Geisel School of Medicine, the Thayer School of Engineering, and the Tuck School of Business. The Carnegie Foundation is one of the university's supporters, and calls it a "top university with a high level of research activity."
Notable Dartmouth alumni include author Dr. Seuss, actress Meryl Streep, poet Robert Frost, two former Secretaries of the US Treasury and three Nobel laureates.
Today, Dartmouth has 6,300 students enrolled. The forty departments of the undergraduate schools enroll 4,200 members of the total. The graduate schools of arts & sciences, medicine, engineering, and business account for the remaining 2,100 students.
Dartmouth has more than 160 student organizations on campus, including those dedicated to academic competition, cultural awareness, pre-professional preparation, community service and philanthropy. Dartmouth has thirty-four intercollegiate varsity sports teams including sixteen women's teams, sixteen men's teams and two co-ed teams. The Dartmouth "Big Green" play in the Ivy League, the Eastern Collegiate Athletic conference and the NCAA Division I conference. Recent student surveys indicate that 75% of Dartmouth undergraduates participate to some degree in the school's athletics.
Some famous Dartmouth campus traditions include campus-wide "big weekends" or "party weekends" which occur every academic term. In the fall, winter, spring, and summer respectively, these weekends include Homecoming (officially Dartmouth Night Weekend), Winter Carnival, Green Key, and Tubestock, the last of which has been canceled indefinitely and replaced in 2006 by an event called Fieldstock.
DARTMOUTH COLLEGE: CURRENT STUDENT POPULATION
Total Enrollment 6,144
Undergrad Enrollment 4,193
Freshmen 1,113
% Male/Female 50% / 50%
% From Out of State 96%
% Freshman from Public High School 55%
% Undergrads Live on Campus 86%
% African American            7%
% Asian 14%
% Caucasian            48%
% Hispanic 8%
% Native American  3%
% Mixed (2+ Ethnicities) 6%
% International 8%
# of Countries Represented 70
DARTMOUTH COLLEGE: FRESHMAN STUDENT PROFILE
Range SAT Critical Reading 670-780
Range SAT Math 680-780
Range SAT Writing 680-790
Range ACT Composite 30-34
Minimum Paper TOEFL 600
Minimum Web-Based TOEFL 250
% Graduated Top 10% of Class 90%
% Graduated Top 50% of Class 100%
DARTMOUTH COLLEGE: ACADEMICS
Academic Rating 96
% Students Returning for Sophomore Year 97%
% Students Graduating within 4 Years 88%
% Students Graduating within 6 Years 96%
Calendar System Quarter
Student/Faculty Ratio 8:1
Professor's 'Interesting' Rating 94%
Professor's 'Accessible' Rating 95%
Most classes have 10-19 students.
DARTMOUTH COLLEGE: MOST POPULAR MAJORS

Economics
Political science/government
Psychology