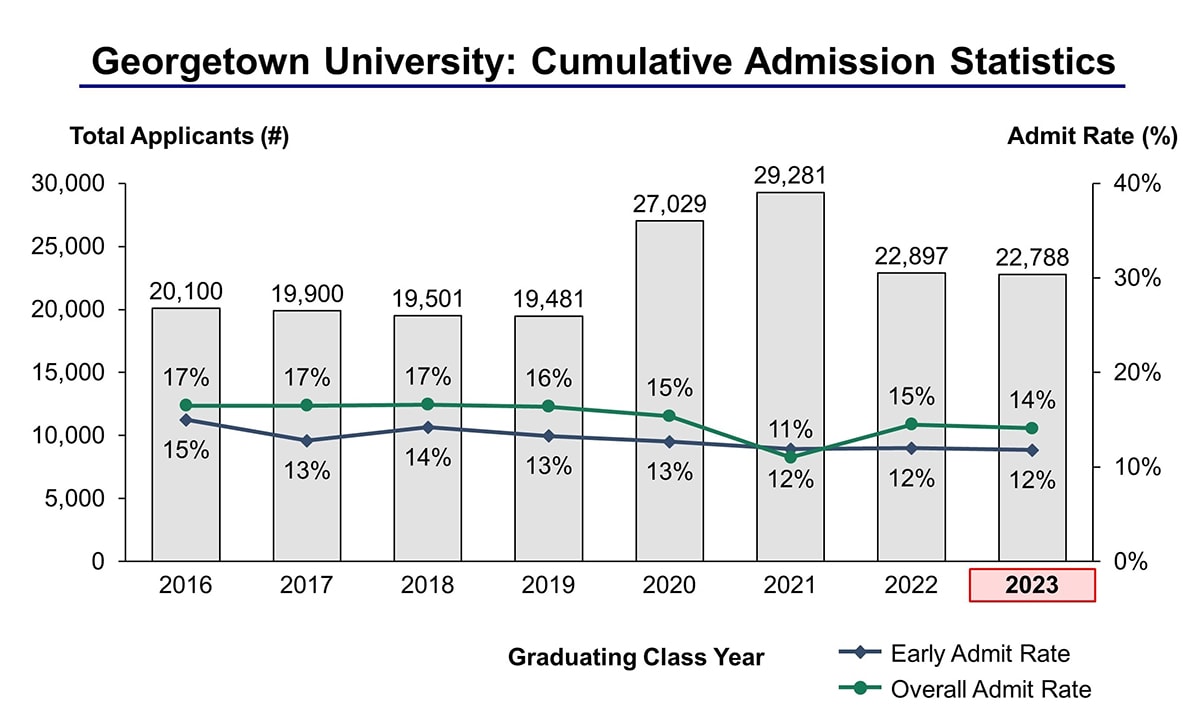 Georgetown University is a highly competitive school and its admissions statistics make Georgetown University one of the 50 most competitive schools for undergraduate admissions globally. Similar to the trends across all top schools, Georgetown University acceptance rates have continued to decline over the past 8 years and will almost certainly continue to do so into the future.
The Class of 2023 was one of the most challenging years to be admitted to Georgetown University ever. For the Class of 2023, 22,788 students applied to Georgetown University of which 3,202 students were accepted, yielding an overall acceptance rate of 14.1%. Overall applications decreased by 0.5% over last year (2022 to 2023) from 22,897 to 22,788.
For the Class of 2023, 919 students were admitted through the early admissions process. Total early applications totaled 7,802, yielding an early acceptance rate of 11.8%. Early applications decreased by 6.9% over last year (2022 to 2023) from 8,383 to 7,802.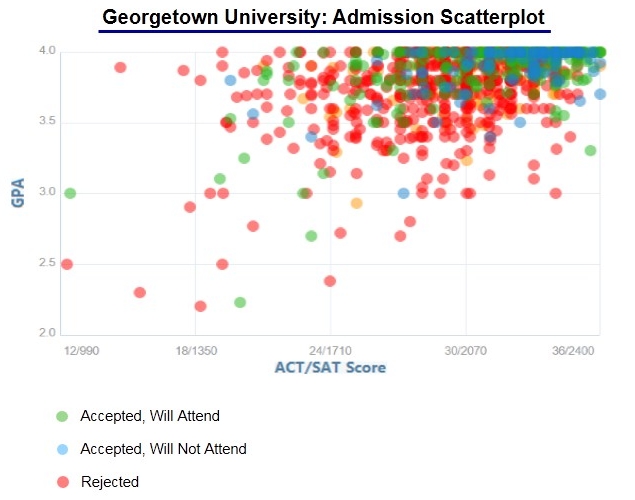 Established in 1789 by founder John Carroll, Georgetown is a private research university on a fifty-four building, 104-acre campus. Georgetown has four undergraduate schools, three graduate and professional schools and many specialized institutes that it uses to administer the approximate 180 academic programs it covers. Georgetown also has campuses in Italy, Turkey and Qatar, as well as a law campus on Capitol Hill.
Georgetown has long played a major role in producing international and domestic policy makers. The list of notable government officials is seemingly endless and worldwide. The list ranges from no fewer than the likes of seven presidents of various countries other than the Unites States, one U.S. President (Bill Clinton), and at least twenty-six U.S. heads of state. Also on the list of notable alumni are numerable royalty from many countries around the world.
Georgetown is made up of approximately 17,357 students annually; roughly 7,552 of which make up the university's undergraduate population. Georgetown schools include Georgetown College, Robert E. McDonough School of Business, Edmund A. Walsh School of Foreign Service, Georgetown Law, Graduate School of Arts and Sciences, School of Medicine, School of Nursing and Health Studies, School of Continuing Studies, and the McCourt School of Public Policy.
Georgetown's motto is Utraque Unum, meaning "both into one". The blue and gray Hoyas cheer Hoya Saxa meaning "what rocks" as the mascot Jack the Bulldog does his part to stir up the crowd at any of the twenty-nine varsity team Division I intercollegiate athletics events of which Georgetown is a participant. Approximately 800 student-athletes compete in the various varsity sports programs at Georgetown.
GEORGETOWN UNIVERSITY: CURRENT STUDENT POPULATION
Total Enrollment 17,130
Undergrad Enrollment 7,590
Freshmen 1,698
% Male/Female 45% / 55%
% From Out of State 99%
% Freshman from Public High School 50%
% Undergrads Live on Campus 68%
% African American 6%
% Asian 9%
% Caucasian 61%
% Hispanic 7%
% Native American <1%
% Mixed (2+ Ethnicities) 3%
% International 10%
# of Countries Represented 138
GEORGETOWN UNIVERSITY: FRESHMAN STUDENT PROFILE
Range SAT Critical Reading 650-750
Range SAT Math 660-750
Range SAT Writing Not Reported
Range ACT Composite 29-33
Minimum Paper TOEFL 200
Minimum Web-based TOEFL Not Reported
% Graduated Top 10% of Class 92%
% Graduated Top 25% of Class 99%
% Graduated Top 50% of Class 100%
GEORGETOWN UNIVERSITY: ACADEMICS
Academic Rating 94
% Students Returning for Sophomore Year 96%
% Students Graduating within 4 Years 90%
% Students Graduating within 6 Years 94%
Calendar System Semester
Student/Faculty Ratio 11:1
Professor's 'Interesting' Rating 81%
Professor's 'Accessible' Rating 74%
Most classes have 10-19 students.
Most lab/discussion sessions have 10-19 students
GEORGETOWN UNIVERSITY: MOST POPULAR MAJORS
International affairs
Government
International politics