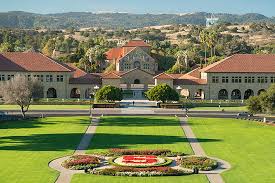 Stanford University is letting in a record low 5 percent of freshman applicants as it vies to be named the most-selective U.S. school for the second year in a row.
Stanford's admit rate is slightly below last year's 5.1 percent. The school, near Palo Alto, California, received 42,487 applications, up from more than 42,000 last year. Stanford beat Harvard by more than 8,000 aspirants last year, when Harvard's admit rate was 5.9 percent.

Harvard will likely admit a smaller percentage this year, as applications jumped 9 percent to 37,000 after the university in Cambridge, Massachusetts stepped up recruiting on social media.
Harvard and the other Ivy League schools will announce their acceptances on Tuesday.
Stanford also said it's bolstering financial aid. Students whose families have incomes below $65,000 will generally be able to attend Stanford for free, up from $60,000. The program now matches what Harvard offers. Families with incomes of as much as $225,000 could also qualify for aid.
Source: Janet Lorin, Bloomberg.